Satellite into B2 digital with HP Indigo 10000
Commercial operation Satellite Print is moving into the B2 market with a newly installed HP Indigo 10000 Digital Press, supplied by Currie Group, coming into the business. The press is part of the biggest-ever investment package for the company, with new Horizon finishing equipment also being installed.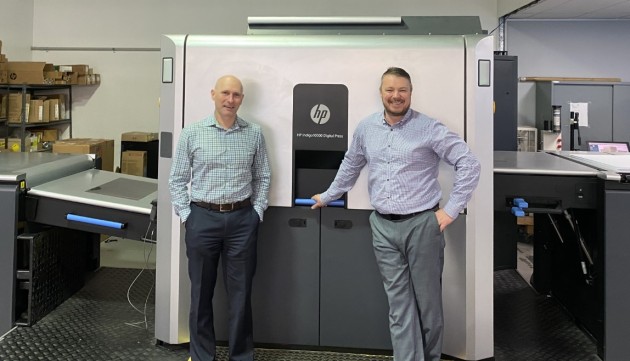 Paul Culliver, director at Satellite Print, said: "We have been seeing an increasing amount of B2 work and have been putting it out to the trade. However, we were not in control of quality or turnaround times. We realised the time was right for Satellite Print to have its own B2 digital print solution, so made the move for another HP Indigo. It is a significant investment with all the finishing equipment as well, but one which we have carefully planned for."
Satellite Print has been using HP Indigo presses since its inception 15 years ago, the business kicked off with a 3050, and since then has had two HP Indigo 7000s. The HP Indigo 10000 will replace one of the SRA3 7000s. Culliver said: "We will now have tremendous flexibility with the 7000 and the 10000."
Culliver said: "We have always been an HP Indigo house, but we did have a look at all the B2 digital solutions out there. We came to the conclusion that the HP Indigo 10000 was best suited to our business."
"And B2 isn't just about size, it can be more economical to print work on B2 than smaller systems depending on the job, and anything that lowers the cost is a good thing. Part of our finishing investment included a new Horizon StitchLiner, capable of folding and stitching in A4 landscape format to go with the 10000 to give us the flexibility for all kinds of jobs."
The company is also investing in a new Horizon perfect binder and a Horizon SmartSlitter. Culliver says, "It will give us an extra capability; our customers will appreciate it."
Satellite is based in Sydney and operates in the general commercial sector with half a dozen staff. Culliver founded Satellite in 2005 as a joint venture. Satellite Print went through a few structural changes before current partner Mark Clinton came into the business six years ago. Culliver said: "It is so good having a partner with the same ethic as me, we are both working hard to grow the business.
"The investment in the new B2 HP Indigo is a great place to get to and we look forward to serving our customers with the best print they can ever have."
Phillip Rennell, sales and marketing director at supplier Currie Group said, "Satellite has been a great customer and a great supporter of HP Indigo since it began. The combination of the HP Indigo 10000 and the automated Horizon finishing that Paul and Mark have included enable them to push to new levels with the business in terms of flexibility and time to market satisfying customer needs. Recognising the great benefits automation in finishing gives the business in terms of flexibility with operators and reduced setups, using automatic setup functionality will continue to drive cost and turnaround time benefits for Satellite and their customers."
With all the new equipment now fully installed the company is ready to get into work as the economy picks up post-Covid. Culliver said, "Like everyone in the trade April and May were tough for us, but we are now seeing the market pick up, in fact the last six weeks have really good. With the new B2 HP Indigo 10000, our online trade portal, and our new Horizon finishing equipment Satellite is well placed to serve the market with quick turnaround high quality print."