Soar Print wins world's best digital wine label
Soar Print has taken out the World Label Award best printing of Digital Labels – Wines & Spirits, its entry beating off gold winning competition from around the planet.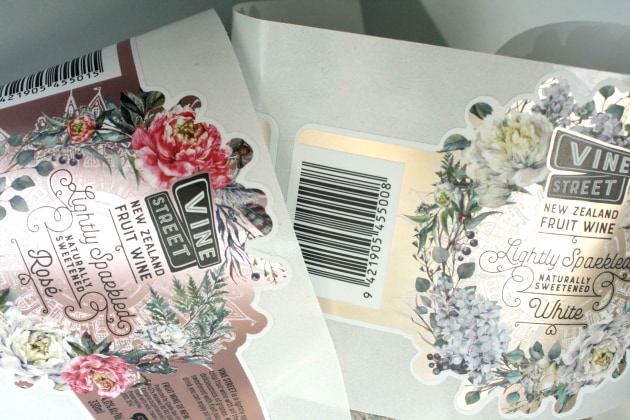 The Vine Street fruit wine labels were printed on its HP Indigo WS6800 label press - supplied by Currie Group - using Manta OPP silver metalised SYN52gsm, and sealed with matt laminate before die cutting. The label was designed by Rees Morley of Morely Design Group.
"We have been building our label-printing prowess for nearly a decade now, so these wins confirm that our label printing team really know what they're doing," the Auckland-based company said.
"The labels for Vine Street were printed using a Color Logic metallic ink effect. For shelf impact, metallic colours really jump out. Humans are like magpies – shiny, glittery objects are attractive to us."
The winning Vine Street labels qualified for the global awards after winning gold at the local Pride in Print Awards last year.
The World Label Awards are run by the L9 group of international label associations, and are judged by an international panel selected from each of the participating associations. Entries to the competition must have won an award in a local competition. There were 27 winners and 21 honourable mentions in the competition.
L9 said winning a World Label Award is considered to be "the peak of attainment in the international label industry and provides the winning converter a platform to use their achievements for strong marketing purposes.
"The brand owner, design studio, the pre-press operation and finally the printer all share in the glory of winning. The label industry has, for some years, coined the term 'Technical Oscars of the Label Industry' for the awards."
"The judges take their task seriously, and discussion between the judges and their opinions can occupy a considerable amount of time before they come to an agreement," Tony White, chairman of the judging panel, said.
"We are dependent on the technical information which is provided by the converter which in some cases can be the fine dividing line between success and failure. With quality levels increasing year on year we face a task that continually challenges us to make the correct decision regarding the award-winning entries."