STOP PRESS: FLOOD WIPES OUT IMAGINATION - TRADE RALLIES
The huge floods that swept through Sydney have wiped out the Imagination Graphics printroom, rendering all its print systems – including the new sheetfed B2 inkjet digital KM-1 Accuriopress – out of action.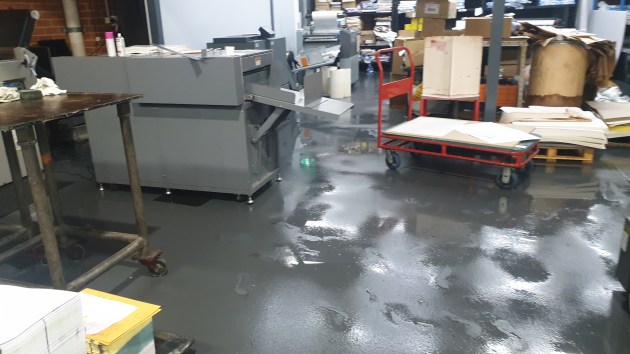 The future of the business is now in the hands of the insurance company, who are sending their second set of assessors out today. In the meantime, the local print trade is rallying round the well-known printer.
Owner Emmanuel Buhagiar took a call from one of his staffers at 5am on Monday morning telling him to get in quick, but by then it was too late, floodwater was 2' (60cm) deep through the whole factory.
Buhagiar said, "Everything has been wiped out including the KM-1. Monday was one of the saddest days of my life. To walk in and see everything underwater was devastating."
Imagination had been in the building for the past three years. Buhagiar said, "We were in on Saturday and the KM-1 was flying, we put a dozen jobs through it. I came in on Sunday to catch up on paperwork, went home about 3pm. Then I got the call the next morning. When I got in, there was garbage floating everywhere, we were knee deep in water."
The whole street in Marrickville was impacted by the floods. With the Imagination presses stopped Buhagiar said, "We are now at the hands of the insurance company."
Wrecked by the floods were the KM-1 – the first of its type in NSW – along with two Konica Minolta digital colour printers, two Heidelberg GTOs, a CTP unit, a Polar guillotine, a Heidelberg Platen and a Cylinder, and finishing equipment including a laminator. Much of the paper in the factory was also rendered uuseless by the water.
The local print trade is rallying round the embattled Buhagiar - a popular and respected print identity who has been in the trade for 40 years, the last 22 as owner of Imagination -  and his wife Colleen, with all jobs they had now outsourced to local printers. Buhagiar said, "We have four or five printers who are doing the work for us. My concern is to serve the clients. We are effectively a print broker now, until we see what the insurance company says. My aim is to carry on, we have a great business here with great staff."