Stop Press: new Print21 arriving on desks now
The latest issue of the print industry's biggest trade magazine, Print21, is out, with the feature-packed issue currently arriving on desks of print business owners and managers around Australia and New Zealand.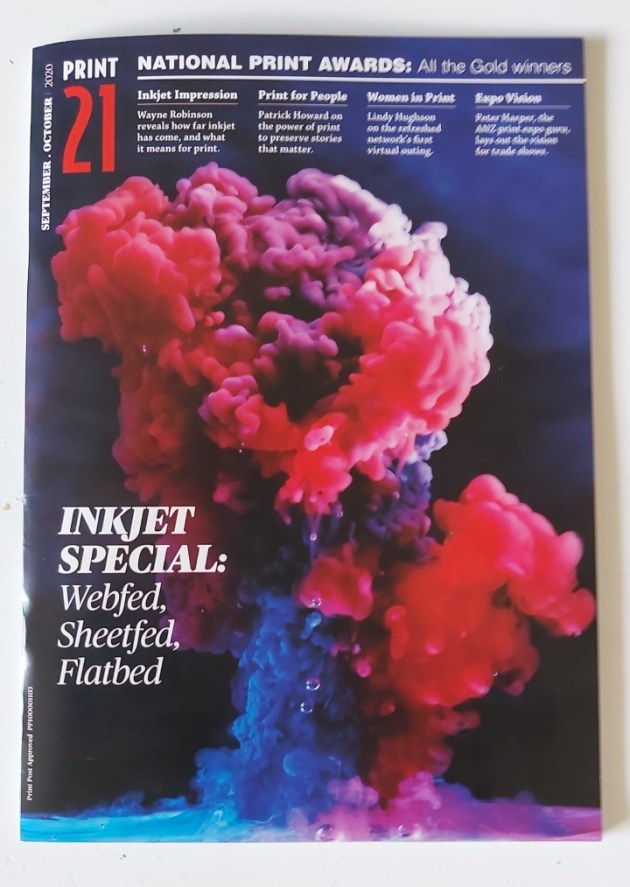 The magazine leads with a full report on the National Print Awards, this year live streamed due to Covid. We present all the gold winners and the individual awards.
This month's issue is full of valuable information, with the main focus on the inexorable rise of inkjet printing. Print21 looks at webfed, sheetfed, flatbed, and label inkjet systems, assessing why it is growing in size and importance. We look at the technology, talk to the vendors, and report on printers that are using it.
We also have a focus on the two digital pioneers that launched the technology to the world: HP Indigo and Xeikon, highlighting their latest developments and talking to their customers. Interestingly, both are now also offering pre-owned systems.
Offset printing is still going strong, of course. This month's issue checks out the latest Komori presses, which the company says are self learning systems.
New in the industry is the CMYKhub DesignDesk concept, where printers can subscribe to various levels of packages for on-demand design, we go behind the scenes to check out what is on offer. And on trade printing, we report on Velflex. The innovative garment trade print business, which is rapidly expanding. And on DTG we report on the country's biggest direct to garment printer, QTCo, which is having a stellar year.
The issue has reports on the new chapter for Women in Print, as well as an assessment of the industry super fund, Media Super, and its performance over the past year.
The world of exhibitions has been in turmoil since March, with everything cancelled or postponed. Print21 talks to the local print exhibition guru Peter Harper for an assessment of what it means, where it is going, and what is in store at PacPrint next year.
Print is all about communicating, and this month's Print21 has a special report by editor-at-large Patrick Howard on the power of print to share and retain stories that matter, in this case those emanating from the Holocaust.
With all the regular contributors also taking part in the issue, the latest Print21 will give all print business owners and managers the latest perspectives on the ever evolving print industry.