US print group spends $1m in four ad promo drive
Leading US print lobby group Print Drives America is spending more than $1m on four half-page ads in the Wall St Journal, in an attempt to influence the influencers.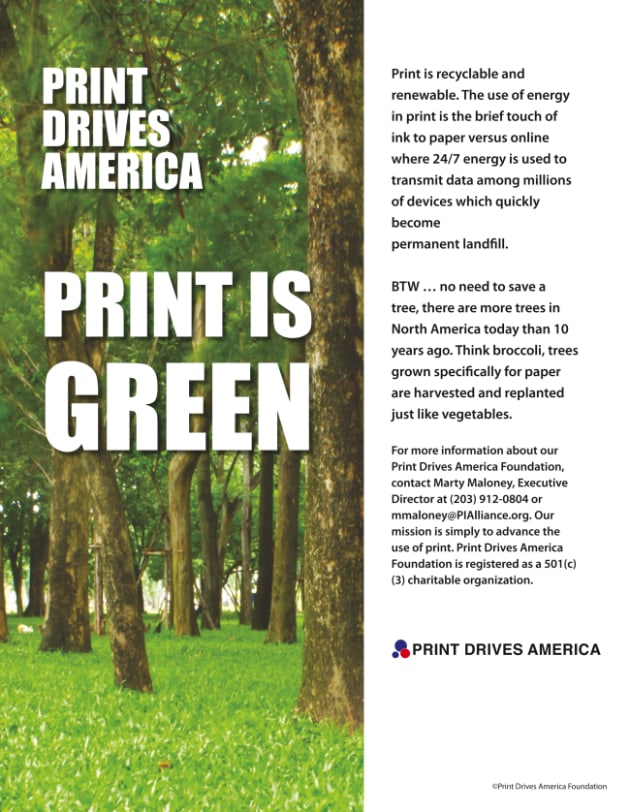 The Print Drives America message in the first ad, which appeared on Friday, is that print is green. It points out some of the environmental advantages the print industry has over digital media. The ad insertion had a bonus circulation at the World Economic Forum in Davos, where many of the world's most important leaders were in attendance.

The ad is part of a broader campaign by Print Drives America to raise the profile of the country's print industry. Its next ad in the series is titled print is cool, and aims to increase the industry's esteem with younger generations.

This will be followed by a print is high tech ad, which explains print harnesses the best marketing technology that can precisely targets recipients. The final ad, print is colossal, points out that print is the largest communications medium, bigger than broadcast, digital, and all other media combined.

On 4 June Print Drives America will host the 68th Franklin Awards. This year it will be a sit-down dinner in a private club. Tom Quinlan, CEO of LSC Communications will receive the Franklin Award. There will be four other awards announced soon given to printing companies for Innovation, Packaging, Inkjet and Digital.

Last year Aussie company Momentum Pro won best in show at the Franklin Awards, better known as the Bennys.