Visual Connections launches virtual industry expo
With postponements of exhibitions and events around the globe local suppliers association and exhibition producer Visual Connections has stepped up to bring the trade show experience to the industry's desktops, with a new, online expo for print, sign, display and graphics.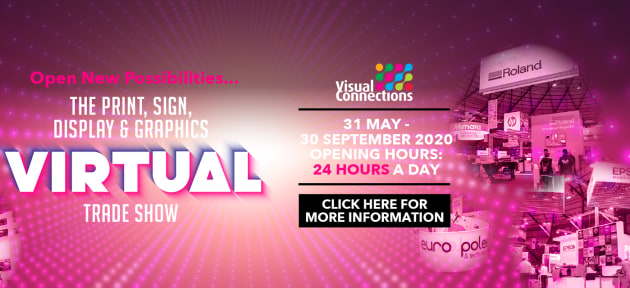 The virtual trade show will run from June through to September, 2020, at www.visualconnections.org.au, its June opening designed to give printers the opportnity to see what is available to invest in under the $150,000 instant assett write off scheme.
According to Visual Connections' CEO, Peter Harper, the concept is something the supplier association has been considering for a while, as a way of bringing its trade shows – PacPrint, Visual Impact, Label & Packaging Expo and PrintEx – to a wider audience. Now, it is being fast-tracked due to the current world situation.
"For some time now, we've been working on ways in which we could bring the trade show experience to more small businesses, rural and regional operations, and people who are unable, for whatever reason, to attend any particular show in person," Harper explained today.
"Exhibitors have received the idea with enthusiasm as an ideal opportunity to bring their latest releases and innovations to the market, with a host of industry names already signed up for virtual stands including Ball & Doggett, Bőttcher, Control Zone, Ecolease, Epson, Esko, Europoles, Eurotech, Fujifilm, Gravotech, HP, Hexis, Mimaki, Mutoh, Roland DG, Screen, Sign to Badge Solutions, Starleaton and Trotec," he reports.
While a virtual show cannot provide all the benefits of a physical expo, Harper says the Visual Connections' events team is working on a wide range of potential initiatives to ensure that visitors will be able to gather an enormous amount of information, see innovations in action, and connect with product specialists and sales teams.
"The new virtual trade show will bring together a broad range of information and content to provide a comprehensive experience – albeit in the virtual sphere. Visitors will be able to peruse the entire offering by navigating through easy-to-use buttons on each 'stand'," he explains.
"We're still working with exhibitors on the full range of content options, however we know that many will be looking at product demonstration videos, virtual tours, sales presentations, downloadable brochures, product photo galleries and website links and the like. And of course, they'll also be able to offer show specials, accessed by clicking dedicated links on the virtual stand," he adds.
The announcement is a timely one for Australian print service providers and sign and display businesses, with Government incentives announced to encourage business investment, and a long wait now before decision-makers are able to attend shows like Fespa and drupa, not to mention our own Visual Impact and PacPrint expos.
The government stimulus package is one of the reasons the who will kick of in June. "From March until June the instant asset write-off threshold has been raised to $150,000 for each asset, up from $30,000, for businesses with an aggregated turnover of less than $500m," Harper says.
"This means virtually every print, sign, graphics or packaging business in Australia is eligible, and there is a huge range of technology, equipment and systems which will fall under the new threshold – so this could be the ideal opportunity to bring forward any planned investment to better equip your business to continue to operate, and to recover more quickly when the current restrictions are lifted.
"The current situation is certainly challenging for every business but, by innovating and working together, we will get through this – and then, when this is all behind us, we'll very much look forward to welcoming everyone to our next physical show, which will be a celebration indeed!"
To view the current floorplan, click here and, to get in early and register to attend the show – and receive all communications about the event – email exhibitions@visualconnections.org.au. Any suppliers wishing to secure one of the remaining available stands should contact Peter Harper on peterh@visualconnections.org.au or 0418 267 952.
Visual Connections is currently in the process of finalising dates for PacPrint next year. Originally scheduled for next May it is being moved back to later in the year to avoid clashing with drupa whihc has been rescheduled to the end of April.