The 2018 conference of the FPLMA had automation and integration as the key theme for the flexo and label printers looking to grow their businesses, reports Print21 editor Wayne Robinson.
The nation's flexo and label printing fraternity gathered in Melbourne for its annual conference under the auspices of the Flexible Packaging and Label Manufacturers Association (FPLMA), and heard a succession of speakers from here and overseas urging them to embrace automation and integration in order to drive their businesses forward.
Some 85 delegates were at the first day of the event, with another 65 attending the second day. The awards ceremony on the second night attracted some 320 label and flexo printers. Opening the conference at the Crown Promenade, FPLMA president Mark Easton told the delegates the industry was now operating in a world where the internet was dictating the pace of change, and digital technology was enabling new opportunities and sweeping all before it.
Easton's comments came in the same week when it was revealed that digital and hybrid label presses were now selling more than traditional analogue label presses for the first time. Easton said, "Automation and integration are the keys to the future. Label and flexo printing systems are already able to connect to complementary production areas such as CRM, prepress, finishing, scheduling. We are also able to integrate directly into the end customer.
"Customer demands will increase, especially the need for speed of turnaround – automation and integration will enable label and flexo printers to meet that requirement and exploit opportunities. First speaker was legendary AFL coach David Parkin, who spoke on leadership and strategy. He quoted the head of VicRail who on his appointment told his 800 managers that they were 10 per cent a steel business and 90 per cent a people business. Parkin highlighted the need for company leaders to focus on people, both their own staff and their customers.
Eric Hoendervangers from flexo print system supplier MPS outlined the arrival of Industry 4.0 as the fourth stage in the industrial revolution, and highlighted the key role of data in the new world. He said, "Understanding and using data will create real opportunity for packaging printers." Malik Sajid from BST International also focused on data, but said for the industry to use it properly standards had to be agreed that technology developers could work with. He said, "It is crucially important that we as an industry develop standards soon, to make Industry 4.0 work for us."
Presenting from HP Yoav Lotan from the labels business said, "It is clear that a focus on customers is key to the growth of any business. Amazon is a great example of that, its communication to customers is clear and constant, they always know exactly where their order is up to." He spoke on the global trends for personalisation, limited editions, variety, shortening life cycles, multiple versions and shorter lead times as the drivers that will see widespread uptake of automation and integration. He said, "Driven by data, companies will streamline production, manufacture with predictability and develop new products and solutions."
According to Lotan the use of cloud-based platforms will enable flexo and label printers to optimise the latest developments, and measure their performance and productivity, using global benchmarks, not just for individual machine performance but also for overall operational efficiency (OEE).
Lotan also pointed delegates to the HP seed design software, which enabled infinite numbers of designs from the same fixed number of elements as an example of new opportunities for printers to take to their customers. The conference debated whether automation would bring packaging production back to Australia from overseas, with the view expressed that it ought to, as supply lines from Asia and Europe cannot be hastened beyond their current limits, while
automation and integration will certainly reduce turnaround times.
One delegate gave an example of 400,000 labels that need to be delivered in two days, an impossible task for an overseas supplier, and with the rise of multitudinous SKUs, and rivalry between major supermarkets needing immediate responses to opposition campaigns, the clear conclusion was that domestic suppliers were going to reap the rewards of increased marketing activity for the brands, made possible by new technology.
Jason Goode, group packaging and process manager for Simplot Australia - owner of brands such as Birds Eye, John West and Leggo's - said, "Offshore printing is always a risk. For example I requested 1000 different labels for a job recently, there is no way we are going to proof each sheet, but we need to be in close contact with the printer, and we can't do that if they are overseas. And with increased short run quick turnaround and versioning overseas printers will be at an increasing disadvantage."
Andy Thomas, strategic director at Tarsus revealed that a working party had been established with the aim of developing an accepted certification for narrow web flexo printing for food and beverage products. Called UVFoodSafe the working group comprises press, inks, materials developers.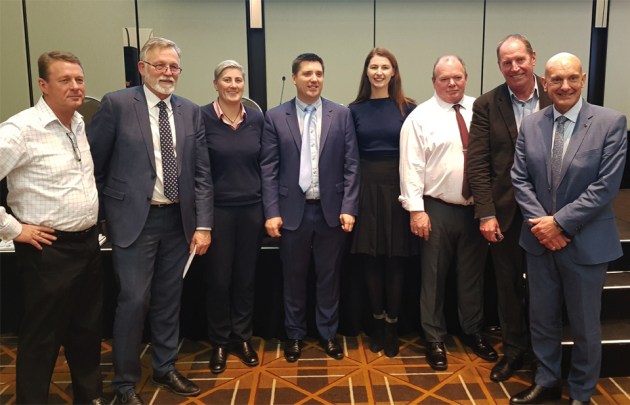 Thomas says, "The issue with narrow web printing is UV, at present it is not deemed as safe, the food and drink brands will not go near it due to ink migration. "The opportunity for label, narrow web, printers is huge, especially with short run, which means that there is space for narrow web printers now, the economics stack up. So the suppliers are working towards developing an authorisation that guarantees UV printing is food safe."
Scott Thompson from Esko told the delegates that meeting the demands of the market meant digitisation, automation and connectivity. He said, "Customers want high quality, consistent colour, speed to market, they want to use packaging as a marketing tool, and they want to meet legislative and compliance obligations.
Digitisation, automation and integration means your dream of reduced waste, reduced time and increased productivity can become your reality." Thompson said using the cloud was one of the best ways to optimise production. The difficulties of communicating the benefits of investing in software were highlighted by Piet Cottenie, director of Hybrid GMS Pacific, who remarked that while printers could salivate over hardware it was much harder to get them excited over software, but he said that software was the absolute key to operating in the new era.
He gave a detailed presentation on its ability to simply and optimise production and paperwork. Trevor Crowley, general manager for Xeikon ANZ said that the opportunity to integrate and automate already existed. He cited a UK Xeikon label printer he had visited who produced 176 different label jobs on two printers in one eight hour shift. Crowley said, "Key drivers of the growth in short run on demand work are the slew of new and versioned products and legislation.
To exploit the growth that we are seeing automation and integration as crucial. We already have MIS and web-to-print, we already have JDF and PDF. In digitising the production process we can measure, understand and improve. We can take action based on measured data and not on gut feeling. We can produce jobs with minimal human involvement, and get to the point where jobs come off the machine with no human touch and the job is invoiced automatically at that point."
Delegates at the 2018 FPLMA conference were left in no doubt of the direction that the industry is moving in, and that there are tools already available to enable them to capitalise on the opportunities that are emerging
FPLMA Awards winners 2018
Graham Kirk, founder and owner of Australasia's largest flexo platemaking business, was sole recipient of the 2018 Hall of Fame at the FPLMA awards ceremony. Kirk Group now has 120 staff across four locations.
Serial FPLMA award winners RollsPack and Multi-Color Australia took out the Flexo and Labels Best In Show awards respectively at this year's awards.
Both companies in fact won four Golds, presented at a glittering ceremony at the Metropolis on Melbourne's Southbank. Label House also won four Golds, two each on Flexo Labels and Offset categories.
Andrew Kohn won two Flexo Wide Web Golds, with Visy and Wedderburn Lables each also winning Gold. Apprentice of the Year was Callum Bryant from Labelmakers in WA, who made the journey across the country to collect his award, with all five finalists taking part in the event.