The inaugural Print21 + PKN LIVE event New Frontiers in Packaging Print saw a full house turning out to hear industry experts discuss the best ways to develop opportunities in packaging print.
Some 170 professionals from the packaging and print industries attended the inaugral Print21 + PKN LIVE key industry seminar New Frontiers in Packaging Print, created to highlight emerging opportunities in packaging print, enabled in large part by transformational digital printing technology.
Setting the context for the day, the keynote address delivered by Laura Demasi, director of consumer and social trends at Roy Morgan, focused on the 'rise of the real' against the backdrop of the the digital age, and what it meant for traditional media. While Australians are spending more time on the internet than ever before, areas like catalogues, magazines and books have remained resilient, said Demasi. "It is really tempting to think that the world is digital, that is all we do, that is the end of the story – but that is not true," she told the audience. "We spend more time interacting with media than we ever, ever have, and we do it right across the board – in digital and some traditional channels."
The first session focused on driving consumer engagement, featuring Amber Bonney, head of creative strategy at the Edison Agency, who discussed how printed packaging and POS are enhancing the experience for shoppers.
She said brands need to see packaging as a critical canvas in which they can defy the status quo and find new ways to challenge and surprise people. The excitement, she says, should extend to marketing and social media, with companies finding new ways to speak the language of their target audience.
"The duality of what a piece of packaging can be is changing the landscape," Bonney says. "Packaging is about selling and entertaining, and connecting with people on a level that is more real, even if – or especially if – you are a big brand.
Sustainability and ethics is also vitally important, she says, especially to younger generations.
"People are wanting a sense of honesty and transparency from their packaging, and brands can use packaging as a mini-billboard to talk to them."
She also said people were interested in the greater good of the packaging, with brands such as Thankyou and Who Gives a Crap tapping into this social consciousness. "We can use our creativity to solve genuine consumer problems, and many brands are doing just that," she says.
Mark Dingley, CEO of Matthews Australia took a look at serialisation and coding on packaging, and how it can be used to enhance brand security and consumer engagement.
Last year, a global taskforce captured nine million litres of counterfeit products over 67 countries in just four months – and much of the fake food was being sold in China.
"The organised crime segment is turning to food fraud as it is highly profitable, with minimal consequences," Dingley says. "But it damages the industry when people hear about things such as the melamine scandal with the New Zealand infant formula brand."
Consumers want to know where their food comes from, and the social impact of the product, and Dingley says QR codes and serialisation solutions give brand owners the chance to compete in the digital world and offer muchneeded information about food. Serialisation is a cloud-based platform that helps brand owners provide authenticity, and QR codes are also useful as they cannot be easily counterfeited.
Conrad Mendoza, regional marketing manager for brand innovation at HP took a deep dive into personalisation and versioning, and how they can create opportunities for brands marketing to the me generation.
He said more companies are turning their attention to interactive packaging as a critical way to engage target markets. He said FMCG brand owners were currently dealing with a me-centric consumer market – one which personalisation of packaging taps right into.
He said while it can be difficult to measure the ROI of digital advertising, packaging offers a marketing value all its own, "We have seen that digital advertising should not be used on its own. It needs to be backed up by offline engagement. Once you have created the stand-out packaging, you create awareness of it on social and digital platforms.
Flexibles: the new digital frontier
With the market for digitallyprinted flexible packaging virtually untapped, forwardthinking printers and label converters told LIVE how they are staking out a claim in this new sector.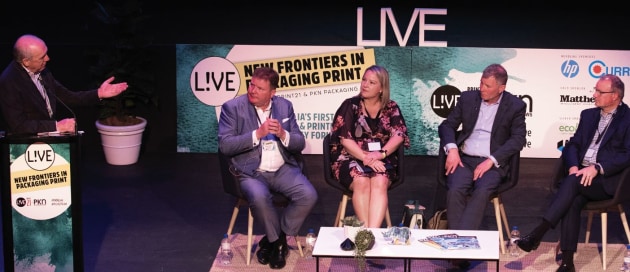 As a fellow pioneer, Read agrees. "We were one of the first to go digital, only about ten years ago, for labels," he says. "We wanted to think to what was next, and that was flexible packaging: there is an untapped market and possibilities which touched our interest most."Fred Soar, Ross Read and Roger Kirwan reckon that digital flexibles now are just as fertile a ground as digital labels were five or ten years ago. "Flexibles are on the cusp of the digital revolution," says Kirwan, "so we decided to take the plunge with the technology."
Each of the three has branched out from their traditional areas of business into digital flexibles: Soar expanded from traditional cut-sheet into labels in 2013, and has recently continued into shrink sleeves and pouches. "We started printing more artisan products, which was driven by consumers," he says.
Read was one of the first to transition from labels into flexibles at around the same time, and recently invested in the mammoth HP Indigo 20000 wide web digital press; and Kirwan this year launched Creatabull Flexibles, a new branch of Kirwan Print Group that will will focus on pouches.
For those looking to follow in their footsteps, all three agree that plenty of preparation is vital for success. "Do your homework, understand the market you are entering and see what gear will be able to do it," says Kirwan.
Soar adds that you should also train your sales team on the new products you can offer. "If you have food and beverage clients see what else you can sell them, such as also leading into cartons and other point of sale items," he said.
Read cautions against getting too caught up in the personalisation hype, and believes shorter run lengths, multiple SKUs, and fast turnaround are digital's biggest strengths.
After morning tea, guests enjoyed a popular session on packaging design trends. Gwen Blake, creative director of Boxer & Co, kicked things off with an overview of the latest trends in printed packaging design, including the push towards inclusivity and away from gendered elements.
According to Blake consumer demand for inclusive designs is growing, and she says moves such as Australia's vote for gay marriage reveals an inclusivity mindset that more brands should be tapping into, with the conference delegates left in no doubt this meant opportunities in short run packaging.
Following this, Ian Douglas, director of software firm Spawnit, and Marty Stone, head of channel development and management for business and government at Australia Post, discussed how Spawnit and Australia Post are teaming up for BrandWrapped, a custom packaging initiative designed to help small business capitalise on the unboxing trend.
It allows businesses the chance to create personalised boxes, satchels, and other branded items such as ribbon, tape, labels, and wrapping paper, with low minimum print runs, whether 10 or 100.
After a brief tech talk on a new augmented reality (AR) tool for packaging by Bill Atta, head of product development and marketing at DreemAR, he joined Mark Daws, director of labels and packaging at Currie Group; Iain Blair, director of Birdstone Collective; and moderator Lindy Hughson, PKN and Print21 publisher, for a panel on PKN's recent #RhinoDownUnder cover and associated AR-activated social media campaign.
The panel discussed how this first-of-its-kind cover – designed to illustrate the realms of creative possibility for printed packaging – saw 4000 versioned gatefold covers produced using HP Mosaic, each with a pop-out rhino, embossed and foiled using Scodix technology, and sporting HP microtext for anti-copy and authentication, and the HP Link secure mark for track and trace. The panel shared the myriad opportunities that variable data printing combined with high end finishing presented to brands.
In the afternoon, following a lunch where guests were able to see DreemAR's augmented reality for themselves, the session on game-changing technology began with a panel hosted by Jake Nelson, labels and industrial editor at Print21, featuring Ross Read of Read Labels and Packaging; Fred Soar of Soar Print; and Roger Kirwan of Kirwan Print Group speaking about their journeys into digital flexibles (see box story on previous page).
Daniel Blau, solutions and partners manager at HP, then gave a five-minute tech talk on HP PackReady, before Joe Foster of Omniverse Foster Packaging Group showed off new technologies and applications in flexible packaging. The day wrapped up with a look into the future of packaging print. Brian Lowe, group general manager of Orora Fibre, led the charge with a talk on how Orora is thinking outside the brown box, including the purchase of two EFI Nozomi C18000 digital inkjet corrugated packaging presses.
Lowe said the Nozomi has 'the most sophisticated digital printing capability available in the world today for corrugated boxes' and that it would form a central pillar of Orora's customer-led innovation going forward. He then joined Geoff Selig, executive chairman of IVE Group; Andrew Macaulay, CEO of Printing Industries; and Kellie Northwood, CEO of the Real Media Collective, for a panel moderated by Print21 publishing editor Patrick Howard, on future directions for packaging print, and the strategic influences impacting on the packaging market and the ways that packaging print busiunesses can meet the challenges and give the market what it will want.
Guests give thumbs-up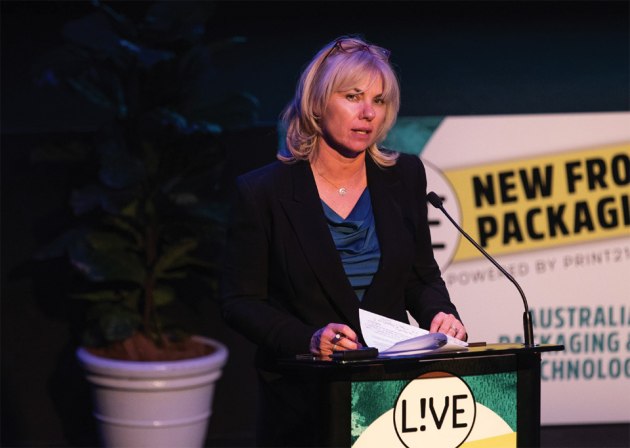 Ruth Cobb, general manager of PrintNZ, also made the trip to Sydney with several of her members to attend. "It was a great day and a good chance to catch up with many people," she said. "It was good to see a few Kiwis had made the trip across the ditch.
Attendees found the event a valuable experience, with many giving the debut conference their seal of approval. Among these guests was Pierre Pienaar, president of the World Packaging Organisation, who told Print21 and PKN he found LIVE rewarding and stimulating. "There was a great line-up of speakers who delivered their content well," he said. "As with PKN's previous LIVE events, the networking was fantastic."
There was some useful information that came out of the sessions and it is always good to hear from the converters themselves, as well as the machinery suppliers." Long-time PKN LIVE sponsor Currie Group was the headline sponsor, along with HP, for the event. Mark Daws at Currie Group said, "The positive vibe was palpable, the speakers delivered engaging, interesting content that was well received by all those I have spoken to. I am looking forward to the next LIVE event."