MAJOR ON-DEMAND CARTON INVESTMENT AT ARLO + COOP WITH ZÜND
Large format and online packaging printer Arlo + Coop is making a major investment in its on-demand, short-run, carton printing operation, with two new fully automated digital Zünd flatbed cutting units, and robots, all supplied by Starleaton, part of the multi-million dollar spend.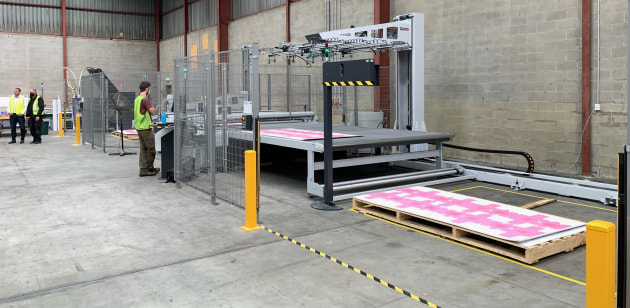 The company is looking to capitalise on its booming short-run packaging business, which it only entered two years ago, and in which it is achieving high growth through its online promotion, on its website, as well as through Facebook and Instagram.
Arlo + Coop is also currently expanding its new 100,000sq ft factory by another 30,000sq ft to accommodate its growth. It is also installing a solar farm on the roof to power the whole factory. It only moved into the new factory last August. 
Rick Tisdale at Arlo + Coop said, "The short-run packaging market will only grow. The new investment is intended to position Arlo + Coop at the forefront of that market. Our e-commerce presence is driving jobs to the factory in bigger numbers all the time."
Arlo + Coop is investing $1.5m on the two new Zünd D3 2XL-3200 cutting lines for automated short run packaging cutting, both of which come with robots for load and unload. The dual beam Zünd D3s will cut, crease and fold. The two beams can each be equipped with up to three different modules, instantly doubling the throughput. The cutter controller optimally allocates the jobs to each of the two beams, ensuring maximum productivity.
John Buitenkemp, sales director at supplier Starleaton said, "The automated Zünd lines with robots are the first of their kind in the world. It is an impressive set-up." Dale Hawkins, senior manager Industrial at Starleaton said, "Arlo + Coop has created an innovative business. The new robust precision Zünd lines will enable it to meet the needs of the market."
The BHS150 robots load and unload. During the loading process, a scanner captures job information via printed QR codes. This enables reliably identifying different jobs within a stack for fully automated processing. The BHS150 can efficiently process materials up to 110mm thick. The loading unit can feed multiple sheets at once. Even smaller sheet or board sizes can be processed efficiently by making full use of the working area.
Arlo + Coop has also just seen a new electricity substation finally arrive at the factory, with the bushfires from last year causing a delay, as power companies focused their energies there. It had been using three large generators to maintain power supply.