Perfection Packaging wins FTA Europe Diamond
Dandeong-based flexo printer Perfection Packaging, has won the Diamond Award from the European Flexographic Association (FTA) in the International Printing Award category.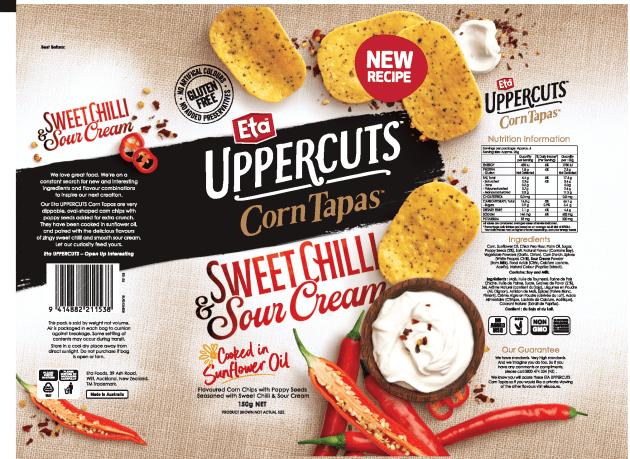 Its Eta Uppercuts Corn Tapas Bag was hailed by the judges as an "exceptional piece of print", specifically mentioning the excellent overall tonal range, standout ink coverage and highlight reproduction.
The third edition of the Diamond Award was held virtually, in Antwerp Brussels. Only winners of national flexographic printing awards across the world had the opportunity to compete at European level for a chance to win a prestigious Diamond Award. Perfection Packaging was eligible by virtue of winning the North American FTA Best in Show wide web category Award for Print Excellence.
Selwyn Hyman, general manager, Perfection Packaging said, "To be recognised by the European flexographic Association is a fantastic achievement for our business and it means a lot to us. This is amazing recognition for our whole team, involved every day working hard to deliver top quality and world class service to our valued customers.
"We take pride with our relationships with customers and always go the extra mile to get the job done. "The results we achieved with this job challenged the traditional expectations of a flexible package printed by the flexographic process – something we aspire to with every job we do."
Hylton Hodes, general manager at Perfection Packaging, acknowledged the significant challenges Covid-19 has presented business and the economy during 2020, and thanked the USA FTA for its support in submitting them to the European awards.
"I was notified a couple of weeks back that we were finalists. The event was held virtually via zoom, and the time difference was noticeable with us winning in the wee hours of the morning. But it was definitely all worth it."

Perfection has also won Best in show for 2013, 2014 and 2015 at the Australian Flexographic Association, as well as Gold, Silver and Bronze (2017) awards at the prestigious American Flexographic Technical awards.