XEIKON AND SAPPI TARGET PACKAGING
Digital print pioneer Xeikon, and paper manufacturer Sappi, have successfully teamed up to combine the barrier properties of Sappi's packaging papers with Xeikon's UV-cured Titon toner.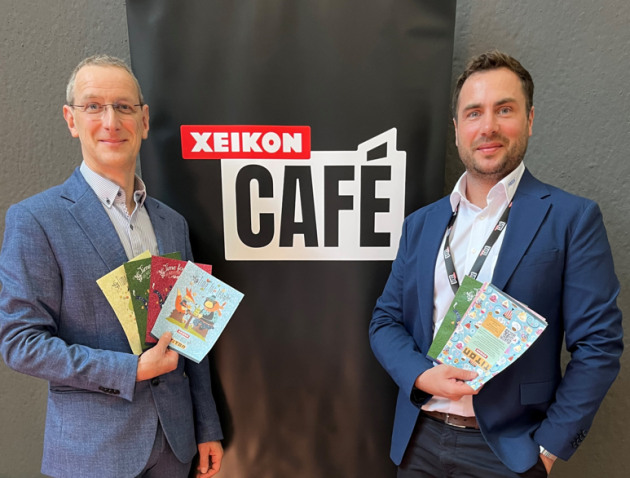 According to Xeikon, the success of the collaboration means its toner will now challenge UV or water-based inkjet for printing in the food packaging market.

The partnership is intended to create toner-based digital printing for packaging, and the two companies say they have taken an important step towards direct printing on paper-based materials, and perfecting the recyclability of the resulting flexible packaging.

Xeikon used its new Titon toner, which requires no further protection on food and beverage packaging, and which is impervious to any heat that may be used at the filling stage.

Senior product manager Frank Jacobs said requirements for colourants are challenging, "Over and above ensuring a good print result, the inks need to be extremely resistant throughout the packaging process and insensitive to temperature, for example for heat sealing. And, especially for applications in the food sector, they also need to be odourless, tasteless, food safe and migration proof."

Xeikon says Titon toner is able to withstand temperatures up to 220-260ºC. It prints to the substrate without a priming step ahead of printing, and with lamination or a protective varnish to protect the printed surface.

Sappi says two of its functional barrier papers are suited to the Titon technology. Sibyelle Hajostek, marketing manager packaging solutions at Sappi said, "We achieved the best printing results with our innovative functional papers Sappi Seal Silk with a 67gsm basis weight and Sappi AvantGuard S Natural in 75gsm.

"Both papers were developed specifically for the flexible packaging market."

The tests were run both at Xeikon's head office site in Belgium and at ACM in Italy, the beta site for the TX500, the press developed to run the new generation toner. ACM has now committed to running all jobs with Sappi's papers, both those that are already approved and also AvantGuard S Gloss, as a high lift flexible packaging material.

Jacobs said, "Just like the other two grades, AvantGuard S Gloss has so far shown the best visual and functional results – without primer or varnish. To say the least, it's very promising.

"Both papers have an exceptionally high-quality appeal and were developed specifically for the flexible packaging market. The results we achieved in combination with the TITON technology left absolutely nothing to be desired – neither visually nor functionally."

The one-side coated, heat-sealable Seal Silk is recommended for standard flexible packaging in the food and non-food sectors in particular, while the uncoated, heat-sealable AvantGuard S Natural high-barrier paper is equally suitable for various flexible packaging applications in the food and non-food markets.

Xeikon, a division of the Flint Group, has 30 years of expertise in both UV and aqueous inkjet and dry toner technology. With its latest dry toner innovation, Titon and the Xeikon TX500, the company has set its sights on the paper-based flexible packaging market, which, as Xeikon's collaboration partner Sappi has been reporting for some time, is experiencing strong growth due to demand for resource-saving, recyclable and plastic-free alternatives from end-users as well as brand owners and converters.