Avery Dennison launches new floor media
Avery Dennison Graphics Solutions is launching two new films for short-term floor decoration applications, and it has a special giveaway promotion for customers in Australia and New Zealand in the run-up to Christmas.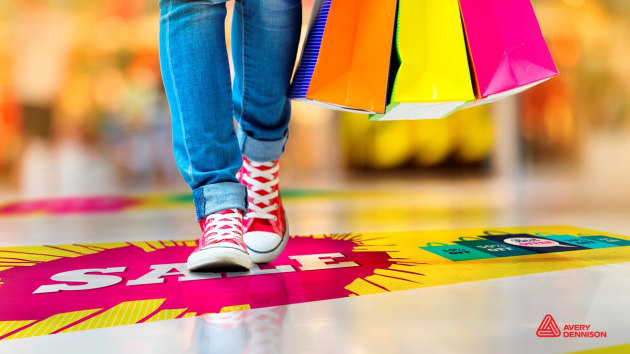 Floor graphics have been one of the hottest items in town since the onset of Covid, with virtually every public space, retailer and institution requesting Covid floor graphics.
The new Avery Dennison MPI 6021 Direct Printable Floor Marking is a direct printable film with slip resistant properties and high-performance removable adhesive.

It is designed for eye-catching short-term decorations or messages on floors, particularly in indoor public areas or event spaces where clear and vibrant graphics are needed. The film is printable across all main digital platforms, and its residue-free removable adhesive means no clean-up is necessary afterward, which the company says is perfect for keeping indoor environments clean and safe for everyone.
The new Avery Dennison DOL 5800 Overlaminate is a transparent textured overlaminate designed to protect promotional media on indoor floor applications for up to six months, ensuring robust full colour graphics and excellent slip and wear resistance during its functional life.
Jordan Leach,business director for Avery Dennison Graphics Solutions in Australia and New Zealand said: "With the new floor graphics products launched today, building and business owners and graphic installers now have a wider choice for their needs.
"We have designed the MPI 6021 film to enable interior designers, graphics installers, and businesses to bring their short-term campaigns to life quickly and simply. We will be running a special promotion in the lead up to Christmas for more customers to try this film."
In conjunction with the launch, the company is running the Avery Dennison Floor Graphics Christmas Giveaway in Australia and New Zealand between today and December 11. Customers who purchase at least $300 worth of Avery Dennison graphics material during this promotional period are eligible to participate in the weekly lucky draws. Every week, there will be four winners (three in Australia, one in New Zealand), each lucky winner will receive a roll of Avery Dennison MPI 6021 Direct Printable Floor Marking, dimension 1.37m x 25m, valued at $300.
For the full details of this Christmas giveaway including rules and regulations, click here.