Avery launches protection car wrap films
Avery Dennison Graphics Solutions is launching three new paint protection films (PPF) forming its Supreme PPF series, that protect vehicle surfaces from stone chips, road debris, insect stains and weathering while also enabling designers to create dramatic customised looks.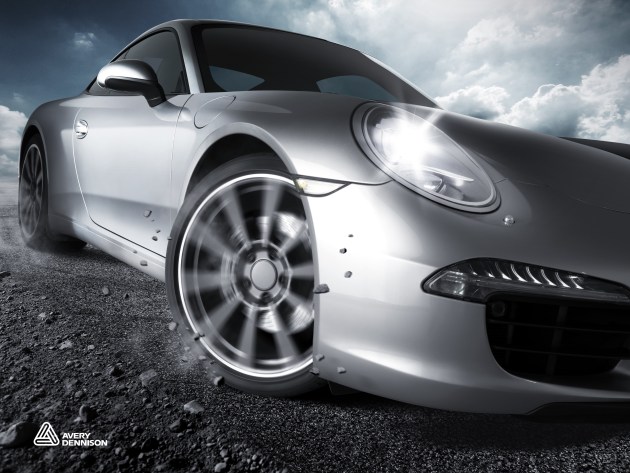 This series includes the crystal-clear gloss Supreme PPF X5, Supreme PPF Matte, and Supreme PPF neo Black. The PPF series is aimed at car wrappers. Installers can now create special effects and accents or transform the roof and the hood for a two-tone look.
Supreme PPF X5 is the top-of-the-line product, which Avery describes as a high gloss, 165-micronultra-clear polyurethane film with the most advanced top coating technology available – XProof Plus. It says it offers excellent self-healing properties, extreme stain resistance from pollution, droppings, and road grime.
XProof Plus enables the Supreme PPF X5 to offer wear-resistant performance. Its hydrophobicity means excellent water, stain and dirt repelling properties; its thermal self-healing properties mean scratches are removed from vehicle surfaces easily through heat from the sun, car engine or applied heat.
"We are very confident that our new products will disrupt the existing market. In a series of common PPF tests, we used highly staining household items such as mustard and permanent marker pens. We marked Supreme PPF X5 and a range of other paint protection films in the market, and assessed the test spots for visual residual after cleaning," said David Newman, senior marketing manager, Avery Dennison Graphics Solutions, South Asia Pacific and Sub-saharan Africa.
"The Supreme PPF X5 was a clear winner due to its XProof Plus coating technology."
Supreme PPF neo Black is a solid colour PPF film with a polyurethane and adhesive technology that gives vehicles its hybrid properties of self-healing paint protection and restyling.
Avery says it has a smooth OEM-paint-like finish, while protecting the surface from harmful daily elements. It is a distinctive black film with noticeable colour depth and a rich black pigment, with an ultra-high gloss finish.
The Avery Dennison Supreme PPF matte film combines the same paint protection with a different visual effect. This high-quality polyurethane film is designed to preserve and protect a flat factory finish. Designers can also use it to transform high-gloss OEM paint to achieve a dramatic new look.
Both Supreme PPF neo Black and Supreme PPF Matte are equipped with advanced self-healing topcoat technology and also provide stain and damage resistance on vehicle paint. They absorb impact from scratches and debris, and both provide a warranty of three years, while for Supreme PPF X5 the warranty extends to years.