Canon launches budget-priced Colorado UVgel printer
Canon Production Printing Australia is launching a new modular addition to its portfolio of 64" UVgel roll-to-roll printers, the budget-priced Colorado 1630.
The industrial grade printer is aimed at large format graphic providers such as sign makers, print businesses and in-house printers producing smaller volumes, by, says Canon, "giving them access to all the proven advantages of UVgel technology, at a lower cost".
The Colorado 1630 delivers print quality of 1800dpi, and produces what Canon says are durable, odourless and instantly dry prints on a wide range of media.
It uses the same ink and print technology as the existing Colorado 1650, and will produce the same broad application range, which includes everything from films to posters, magnetics, to wallcoverings, floor graphics, soft signage, labels, packaging and decals.
In its fastest print mode, for applications such as outdoor banners and billboards, the Colorado 1630 runs at a maximum print speed of 111sqm an hour. In high quality mode it is 30sqm an hour.
The modular architecture of the Colorado 1630 allows users to start with the base model, and depending on business needs, choose from a range of additional modules such as FLXfinish, easy-double sided printing, or a second media roll.
For example, if the printer is installed with one media roll but run lengths are increasing, a second media roll option can be easily added.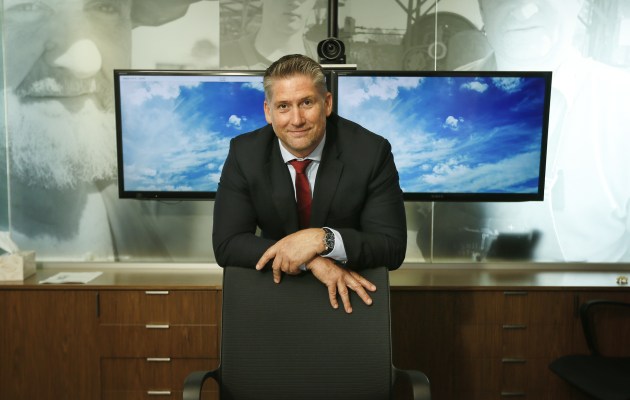 Craig Nethercott, managing director, Canon Production Printing Oceania, says, "Enabling our customers and partners to expand their application possibilities and grow their business is essential for us.
"In Australia we have seen some of the highest utilisation rates and volumes per machine on a global scale. However, increasingly we have seen the demand for a 1.6m UVgel printer that can serve customers with lower volume requirements.
"We hope that with the introduction of the Colorado 1630, more print service providers can benefit from a highly automated, robust and stable printer with a modular architecture, that offers remarkable flexibility at an attractive investment level," he says.
Speaking on the launch webinar from Holland, product manager Kris Walewijns said, "All the features of the 1650 are available on the 1630. Options can be added in the field. We call it entry-level, but it is an industrial scale printer. It weighs 700kgs, it is packed with automation, a bit slower in speed than the 1650, but at a friendly price."
The exact price depends on the specification. The printer will be available through Starleaton.
Once he had been through the machine, Walewijns took webinar guests on a whistlestop tour of the applications, going through some 26 different products in the showroom, testament he said to the versatility of the printer and its stretchable inks.
Tinashe Muchecheterwa, product manager, Large Format Graphics, Canon Production Print Australia, said machines for Australia are currently "on the water" and said, "Our expectation is we will receive these in July ready for install."
Canon says that further enhancing the efficiency of the new Colorado 1630, the precise media handling of the Colorado 1630 ensures "near perfect" registration for double-sided printing.
A print side in option also allows customers to print on both the inside and outside of the roll for maximum media versatility.

All options can be enabled remotely, without the need for a service visit.
Adding flexibility for a matte or gloss finish to each print, the optional FLXfinish module uses an LED curing technique designed to add visual impact to applications such as banners, wall coverings and point of sale materials, without the need to change the inks or media.
This technology also supports printing on porous substrates, such as uncoated papers and soft signage materials, further expanding new market opportunities.
The new versatile printer offers the same productivity features, output quality and media versatility as the Colorado 1650. Using the same Canon UVgel 460 inks used by the Colorado 1650, the company says the Colorado 1630 produces "razor-sharp prints with a wide colour gamut". Canon says it is reliable and easy-to-use, describing it as a "robust workhorse built for maximum uptime and quick turnarounds".
The company says operating costs are minimised, thanks to the efficiency of the printer, combined with reduced waste consumption. Users can benefit from uninterrupted production with on-the-fly ink replenishment which, combined with automation for features such as nozzle monitoring, printhead maintenance and media feed winding, allows users to avoid unnecessary downtime.
In addition, Canon's Remote Control app is now available to monitor all Colorado printers. This will allow users to check the printer status remotely, enabling 24/7 unattended printing. The Remote Control app sends alerts to the users' mobile devices with printer status updates, warnings and errors, offering the reassurance that the printer is running smoothly to meet deadlines.