Complete Displays says no jab no entry
Brunswick sign and display operation Complete Displays has instigated a no jab no entry policy, with owner Bernie Casey explaining his rationale on the nation's biggest breakfast TV show, Today, with host Karl Stefanovic.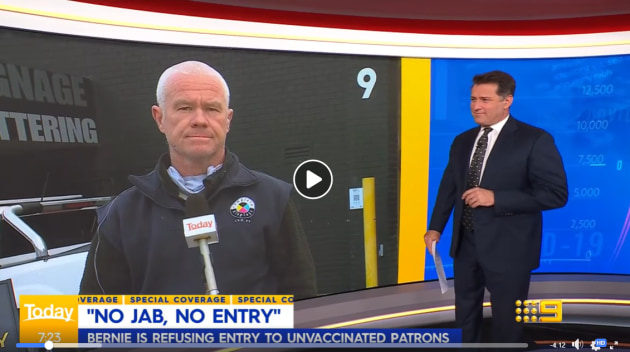 Casie said, "We have had 200 days in lockdown. The only way out of this situation is through vaccination. We all have to do the right thing. We need a circuit breaker, none of us want this to go on."
The Victorian company is not mandating vaccines for its staff, as they are all on board with the need to be protected, and to protect others. It will though request that customers who are not vaccinated remain outdoors, with Casie saying he will talk to them in front of the building.
He said he expected his customers to stick with the business in the new policy, saying: "We want to work with people, not against them. We're all in this together."
Explaining that his business worked in the events industry, printing for the Grand Prix, the Racing carnivals and the like, Casie told Stefanovic that since the outbreak of Covid, "My business has been smashed."
Calling Casie a "legend", Stefanovic, said: "You are making a stand. I like it. You are articulating perfectly the frustrations of small business owners – who are the lifeblood of the economy – around the country."
No jab no work will likely become the biggest workplace issue of 2022. The vaccinated will not want to work with the anti-vaxxers, the anti-vaxxers will cry discrimination if they are barred form the workplace, but business owners will not want any chance of being locked down for two weeks for a deep clean.
Food packaging business SPC became the first business in the country to instigate no jab no work, with Qantas also requiring its staff to be vaccinated. The government has washed its hands of responsibility.
The FWC has now set a four tier system, where it will support employers in the top tiers – aged care operations and the like – who mandate vaccination, but those in the lower tiers, which will include printers, will be left at the mercy of the courts, as things stand at the moment at least.