DASHING INSTALLS NEW EFI PRO 32r+ ROLL-TO-ROLL
Dashing Group has installed its second EFI roll-to-roll printer, a Pro 32r+, as the visual merchandising business ramps up its production power.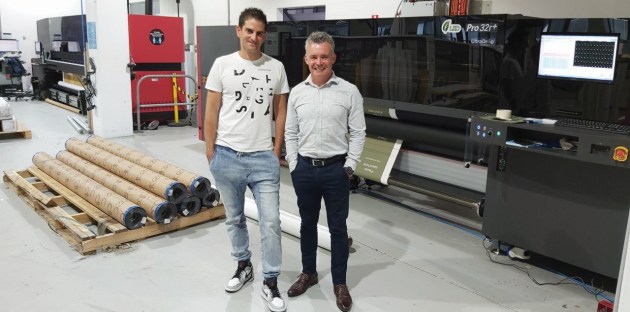 Russell Kavnat, managing director of Dashing Group said, "There was a good opportunity to upgrade our fleet, the roll-to-roll business has been strong for several months now, and we had reached capacity on the existing Vutek."

Colour reproduction and fidelity was a key factor in the purchasing decision, with the Dashing business being all about the brand experience, the colours have to be spot-on every time. Kavnat said, "Our experience with the first Vutek has been that the EFI software and hardware delivers accurate colour time after time.

"And from a speed and quality and cost to maintain perspective, the first Vutek has performed well, so it was quite an easy decision to go for another EFI roll-to-roll printer."

The EFI Pro 32r+ has been put to use straight away, producing a range of decals, posters, banners, and floor graphics. Kavnat says, "Dashing creates the brand experience for our clients. They are all in competitive environments, not only with other brands in the store, but with the online world. They are seeking to engage with their customers. Colour fidelity is crucial to that."

The new EFI Pro 32r+ joins another 3.2m Vutek 3r on the floor, doubling the roll-to-roll capacity. The company also has several other large format printers, with its first EFI Vutek coming in two years ago.

Dashing Group is far more than a print business, in fact, it leads to clients with its studio team of creative industrial designers, who come up with the concept for the brand experience. Kavnat said, "We have a reputation for being leaders in the retail design space for visual merchandising. The print output must match the creative proposition. And that's because the clients want the kind of high quality graphics that we provide. The new EFI Pro 32r+ will be able to support this."

Rodd Harrison, vice-president, Asia-Pacific Sales at EFI said, "We are thrilled that Dashing Group has chosen EFI to support its business needs. We take our sales discovery process with our customers seriously, and I am confident that with EFI's leading innovative products, technology and people, we can continue to support Dashing to achieve better production efficiencies."

Darren Massey, business development manager at EFI says, "Dashing is a fantastic business, operating in a demanding space. Its new EFI Pro 32r+ will enable it to meet those client expectations."

**Currie Group is hosting an Open House week featuring an EFI Pro 32r+ from April 12-16 at its Melbourne headquarters. Printers wanting to see it in action and have a briefing on other EFI solutions can click here to register for the event.