Epson launches new 245sqm an hour dye sub printer
Epson has launched a new 76-inch high speed dye sublimation printer – the six-colour SureColor F10060H – using the company's Precision Core inkjet technology, which runs at 245sqm a hour.
The new model features a total of six ink lines, including the traditional CYMK, along with two more that can be configured for either light cyan (Lc) and Light Magenta (Lm) or fluorescent pink (Fp) and fluorescent yellow (Fy).
The CYMKLcLm configuration is aimed at customers who seek to produce premium quality output with maximum image quality. It enables more precise and accurate colour with fine gradation and reduced grain. It is particularly suited to output that include images of people, product and locations and environment. Skin colours are outstanding, equipment is vibrant and beaches, trees and skies look rich and captivating.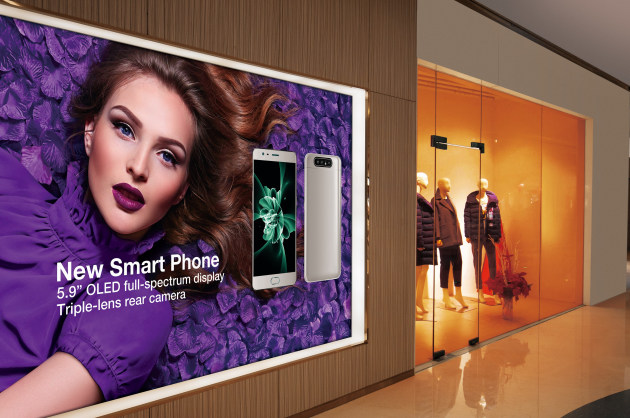 The FpFy configuration is aimed at customers producing sportswear, work and emergency clothing, merchandise and soft signage which require a fluorescent component. Epson says images produced with fluorescent ink are bright and intense with high reflectivity. It says while traditional dye sub printers only apply fluorescent inks as a spot colour, the SC-F10060H can also apply them as a continuous tone mixed with other colours to provide "a full rainbow of brilliance".

The new printer features a total of six next generation PrecisionCore printheads, each with 3200 nozzles. The heads support Variable Sized Dot Technology (VSDT) and feature active inkless nozzle status monitoring. To ensure maximum image quality with minimum wastage the printer undertakes auto nozzle replacement and incorporates advanced self-cleaning.

The new printer supports production speeds up to 245sqm an hour on rolls up to 1950mm (76") wide and 60kg in weight. Epson says that to ensure cost-effective operation it supports ultra-thin media, incorporates a high-precision auto-take-up, and features a bulk ink system that holds up to 120L with dual storage and auto hot-swap.

Like its four-colour siblings, the SureColor F10060H is a dye-sublimation machine for textile production aimed at high volume producers. It combines speed, efficiency and production-cost minimisation with the ability to produce superior output quality .
According to Epson the SC-F10060H is designed for easy operation. It features a large 9" colour touch panel display, and a transparent platen window with integrated lighting. Downloadable EMX profiles facilitate rapid set-up with common media types. It says an integrated RGB camera enables easy profile adjustment and fast configuration with new medias.
The printer can be loaded by single operator, care of an integrated media lifter and dual front and rear feed controls. It also features an industrial style signal lamp and an ink system with automatic hot swap. The SC-F10060H ships complete with Epson Edge Print and Edge Dashboard software, and also supports a new service called Epson Cloud Solution Port (ECSP) that the company says enables detailed production monitoring and advanced status analysis.

As with all Epson Large Format Printers, the SC-F10060H is backed with a comprehensive service package that offers cover up to five years. The new ECSP system enables Epson to offer remote support and accelerated repair; problems can be directly analysed and service agents dispatched complete with appropriate parts.