Game, set and match: Vivad has Tennis Open covered
Large format print business Vivid produced 1.5 kilometers of print at superspeed to cover the seats at the Australian Tennis Open, when spectators were suddenly banned with the snap Covid lockdown.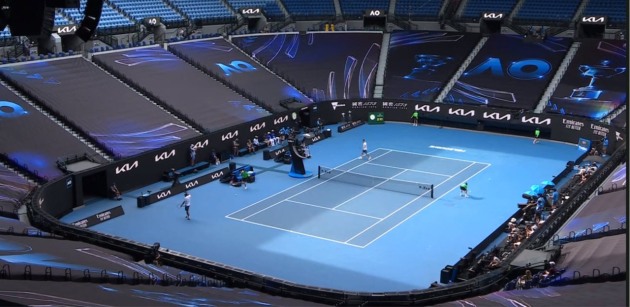 The 18 sections of coverage comprised 4566sqm of polyester, all printed on the company's Durst Rhotex 325. They were produced in 26 hours, by two teams operating 12 hour shifts, to keep the process of printing, sublimating, trimming and sewing running continuously around the clock.  
Ewen Donaldson, owner at Vivad, said, "Saturday afternoon and my mobile starts to vibrate, it was Ben Morris from Peak installations, who said the tennis wants to cover all of the empty seats in printed fabric, and asking if we could do it."
The Australian Open is taking place in Melbourne, which was subject to a sudden lockdown in a Covid scare, which meant no more spectators were allowed, and banks of empty seats resulting.
Donaldson said, "It was determined that all of our ducks were in a line. We had the stock, we had the ink, we had the team, and we had the capability with our Durst Rhotex printing technology. 
"Everything was done at Vivad's Melbourne facility in Campbellfield by our amazing team of can-do operators. The panels were installed by Peak Installations team of installers at lightening speed over three mornings before the game. 
"We are incredibly grateful to Peak installations and Tennis Australia for the opportunity to demonstrate what Australian manufacturing is capable of."
The size of the print job equated to 4656 square metres of printed polyester fabric. The printing process was done by dye sublimation, in the same way that activewear is printed. The ink is heated to 200 degrees Celsius, the temperature at which it fixes to the polyester. 
Each panel was printed 3 metres wide and stitched together to form a total of 18 sections. The total number of linear metres of printing and sewing was 1.5 kilometers, the print process took a total of 26 hours.