Sign conference and awards event rego open
Registration is now open for the Asga and Fespa HP National Conference and Awards for Excellence, with the one-day event to take place in-person in Sydney in February.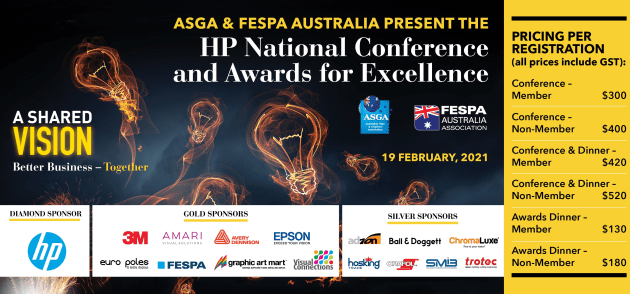 Usually held every second year, the conference and awards were postponed earlier this year. It will now take place Friday 19 February, at Beta Bar and Gallery in Castlereagh Street, Sydney CBD.
Olympic gold medal winner and the man whose name is synonymous with keeping going and not panicking when chaos is all around, Steven Bradbury, is the keynote speaker.
The conference kicks off at 9am with registration and includes a lunch. In addition to Bradbury, other sessions cover subcontracting, finance, and compliance.
As well as Diamond Sponsor HP, a host of industry leaders have signed up as Gold Sponsors of the Conference, including 3M, Amari, Avery Dennison, Epson, Euro Poles, Fespa, Graphic Art Mart, and the industry's supplier organisation, Visual Connections. Silver Sponsors include Adzon, Ball & Doggett, Orafol, Sign Manufacturers' Insurance Brokers (SMIB) and Trotec. There will be a table-top expo during the conference.
The formal evening awards gala dinner will see a host of signage awards given out.
Cost of the conference is $300 for Asga and Fespa members, $400 for non-members, although membership is currently available for free to qualifying companies until the end of the year. Going to the gala dinner will add $120 onto the cost, or $130 for members to go just to the dinner, and $180 for non-members to go to the dinner only.