EPSON TO SHOW NEW DTF / DTG PRINTER AT VI
Epson will show a sample of its upcoming new SC-F2260 direct-to-garment (DTG) and direct-to-film (DTF) printer at Visual Impact, on stand C12, which it says comes with faster performance and finer detail capability.
At this year's show Epson's theme is, "Relax, you are in good hands" as the company demonstrates consistent quality imaging across a range of different media types. The theme is relevant to fabric with the company set to preview the new SureColor F2260 model in its DTG range.
The SureColor F2260 will be the third generation of Epson's top-selling desktop DTG model. It is expected to ship in July and features a host of upgrades that Epson says make it faster and more efficient while also enhancing support for increasingly popular DTF (direct-to-film) production workflow.
The SC-F2260 combines a proven production platform with upgraded componentry, enhanced ergonomics and new ink. The printer incorporates a 33 per cent larger PrecisionCore printhead for faster performance. It ships with upgraded Garment Creator 2 software that offers additional user functionality and says Epson, also enables more efficient output with finer imaging detail.
A significant number of refinements have been incorporated to make installation easier and operation more flexible. The case features a "more ergonomic" design with a squarer side, a flat top, transparent plate cover and integrated interior lighting. There is an enlarged 4.3" touch panel display, and a cleaner loading bay with repositioned controls. Macro head-height adjustment is simpler and the printer features automatic fine head-height adjustment for optimal quality, maximum speed and minimum hassle.
The new model will also employ upgraded ink. UltraChrome DG2 has been designed to support a wider range of fabrics with better colour and less bleed. The new ink is compatible with DTF workflows.
The SC-F2260 incorporates a number of features to reduce waste and expense. It uses 800 ml ink pouches that are 33 per cent larger, and incorporate "a lot less" plastic than the cartridges used by the previous model. The printer has also dispensed with a fan for quieter operation without the need for regular filter replacement.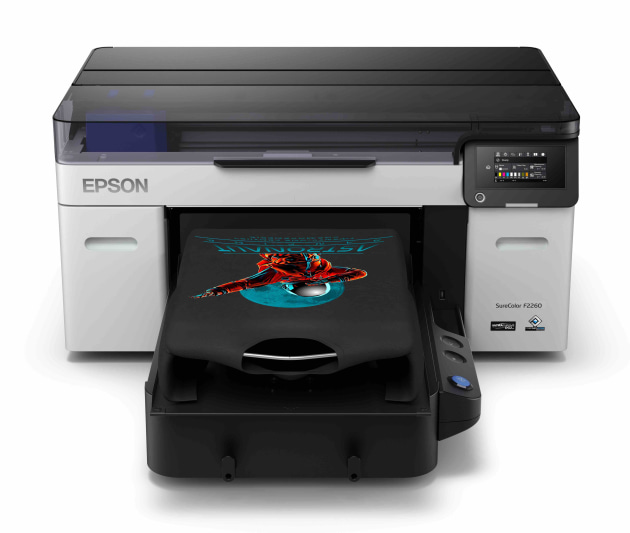 As with its predecessor, the new SureColor SC-F2260 incorporates a head that doesn't require regular replacement. Productivity is improved, parts and labour costs are significantly reduced, and e-waste kept to a minimum. Should a failure occur, the head is included under the comprehensive on-site warranty with optional CoverPlus extension for a total of up to five years. The new model extends this with integrated Epson Cloud Solution Port support. Epson says its new Port service provides enhanced operator monitoring tools (with web and mobile access) and enhanced service support; if a problem occurs Epson technicians can directly dial in, analyse the fault, and seek rapid resolution.
"With the SureColor F2260 Epson has further refined DTG while opening up the world of direct-to-film to customers with consistent high-quality imaging and durable cost-effective operation." Said Gordon Kerr, business marketing manager, Epson Australia.
The new SureColor SC-F2260 is expected to commence shipping in Australia late July. New Zealand availability is expected to follow in August.