GJS AND BROTHER TO SPONSOR PRINT STUDENT
GJS and Brother International Australia have launched a new BIA Excellence in Digital Decorating Award for TAFE NSW Cert II students, and Brother will pay the TAFE tuition fees for a year for the student that wins it.
The new print industry award and sponsorship programme is aimed to support students studying Certificate II in Printing and Graphic Arts at TAFE NSW, and to encourage the next generation of print entrepreneurs.
The new accolade will be awarded yearly, based on demonstrated excellence in digital decoration to a student studying Certificate II in Printing and Graphic Arts.
The winner will eceive one full year of their TAFE tuition (or equivalent) paid for by Brother. The winning student's name will also be placed on an honour roll that is permanently displayed in the TAFE classroom.
John Timmins, national sales manager (DTG) at Brother said, "We really appreciate GJS facilitating the connection between Brother International Australia and TAFE NSW so that we could create this new industry award and sponsorship. It's wonderful to be involved in the education and growth of prospecting digital decorator and garment designers, and to provide them with the technology to learn with and to push the industry forward."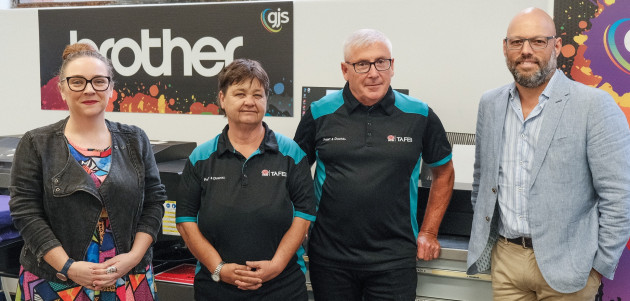 The Certificate II in Printing and Graphic Arts course provides students with a strong foundation to launch their careers in printing with a variety of media, one of which being garment production, where Brother's involvement will greatly enhance the learning outcomes of the course.

"TAFE NSW has always done wonderful work educating our industry and Brother is glad to further assist with the democratisation of digital print education and enable its future vision to become a reality," added Timmins.

GJS has been working alongside TAFE NSW for over 30 years, providing training, support and equipment for the various printing methods taught within the classrooms. The recent installation of a Brother GTXpro Bulk direct-to-garment (DTG) printer marks the most recent investment from TAFE NSW towards gearing students towards a future in digital printing.
Similarly, GJS has been working beside Brother for more than 10 years of collaboration and market education on DTG printing, recently being awarded for a decade of commitment to DTG.
To further assist all students studying Certificate II in Printing and Graphic Arts at TAFE NSW, Brother has also agreed to provide free ink each year allowing the students to maximise the potential learning opportunities of the new Brother GTXpro Bulk direct-to-garment printer.
"The partnership brokered by GJS between us here at TAFE NSW and Brother is a significant step in enhancing the learning outcomes of students pursuing a career in printing and graphic arts, specifically in the digital decoration field," said Craig Rollins, head teacher of printing at TAFE NSW.

"The continued commitment from Brother will also be incredibly valuable for TAFE NSW, allowing us to provide our students with supplies to use with professional print equipment and to get a head-start in the industry, whether they aspire to be digital print operators, designers, print salespersons or print managers," concluded Rollins.