How to design for digital textile printing
Wild Format author Professor Paul Lindstrom says there are simple but necessary steps to ensure your digital textile printing is top notch.
Digital printing on textiles is an amazing option for communicating new ideas in print using fabrics. There is a massive range of possibilities for what you can do when you bring together digital printing and textiles for all sorts of applications, from signage to apparel to interior decorating.
The design consideration for outdoor applications like signs or tents and gazebos will be somewhat different from the ones for interior design and apparel, but there are some technical aspects which many digital print projects share.
When preparing print projects using digital printers suitable for fabrics and textiles, you can use pretty much the same checklist as for conventional: that is, analogue printing like offset, screen or flexo.
But if anyone has given you the impression that there are no special technical requirements for digital printing in terms of how the artwork is prepared, they are unfortunately mistaken, or they underestimate the challenges.
Well-prepared artwork has to take into consideration things like the resolution of images, using the best type of file format for vector-based illustrations and for pixel based images.
Other technical factors such as bleed, trapping, overprint (or not), pattern repeat (if necessary), type of fonts used and so on, should be considered and optimised to get the best results for your project.
And then there is colour management – not every colour can be reproduced in every printer and on every type of substrate. Don't believe anyone who tells you otherwise, because it is simply not true. If you care about colour accuracy in your print project, there are some basics to keep in mind at the outset.
Common errors in preflight
The term preflight was originally used in aviation, dating as far back as 1935. It refers to the checks that a pilot and ground crew do before clearing a plane for take off. Chuck Weger, a consultant within the graphic arts industry, realised as early as 1990 that something similar was needed handling electronic artwork, before sending it off to be printed.
A preflight checklist for print production can be as simple as a written list of "don't forget to check that...", or using special software to go through the files before sending them off to the printer. We will come back later to common software available on the market, and what can be done within the Adobe Creative Cloud suite of applications. Don't panic, it's all doable.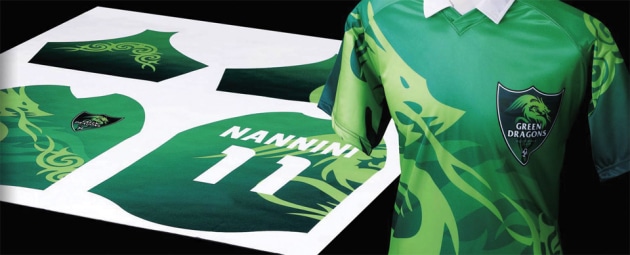 Watch out
By far the most common error in artwork being sent for production at the printer is images that are at a far too low resolution to be printed. For some large format production, when the printed matter is to be viewed at a considerable distance, you don't need to adhere to the general rule of around 300 ppi resolution (pixels per inch), but you should probably stay well over 100 ppi effective resolution even for textile printing.
By effective, we mean what the resolution is after you have placed the image and possibly enlarged it in the layout software. If you place an image at let's say 300 ppi, but then enlarge the image 200 per cent, you have halved the effective resolution, and it's now at 150ppi in the artwork. If this is to be viewed close up, the image may look slightly blurred. On the other hand, fabric is by nature a substrate that isn't.