ITMA: EPSON PRINTS ON ANY TYPE OF FABRIC
Epson has used global textile show ITMA to launch the Monna Lisa ML-16000/Hy, which it says can digitally create any type of special effect on fabric, printing from 16 PrecisionCore printheads.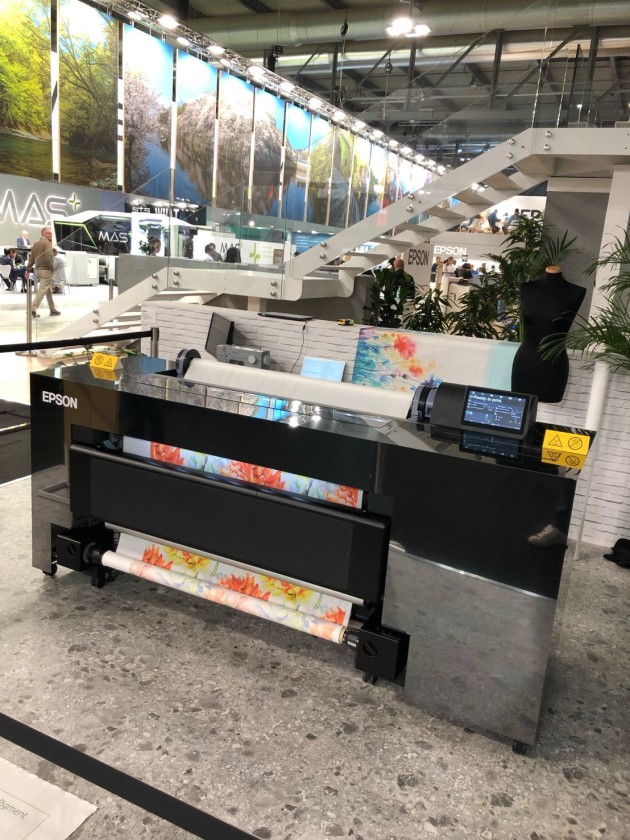 The hybrid printer has been developed to reproduce "the most sophisticated" effects for modern printed fabrics with gold, silver, and glossy tints.

According to Epson, the continuously evolving textile market requires increasingly sustainable and efficient solutions in order to deliver results and low-impact productivity. It says the Monna Lisa ML-16000/Hy is the "ideal printer" for companies that need to optimise the production of complex prints, and offer the market more creativity.

With the latest portfolio addition, the Monna Lisa series – marketed on its print quality, ink optimisation, flexibility, and sustainability – can reproduce special effects on any fabric without requiring any subsequent steps. These range from glossy lacquer through to gold and silver metal, and opaque white.

Epson says the combination of the Monna Lisa ML-16000/Hy eight-colour inkset, 16 PrecisionCore printheads, and 64 nozzles, "finally enables" the digital printing of special effects, previously the exclusive preserve of conventional screen or cylinder printing.

It claims its Genesta water-based inks guarantee colour accuracy and resistance in fabric prints, while pastes developed and produced by Epson Como Printing Technologies create the special effects.

PrecisionCore printhead technology guarantees the quality while delivering the high speeds necessary for commercial and industrial printing. At the heart of this technology is the MicroTFP next-generation printing chip.

With the latest evolution of the Monna Lisa series, and the ability to produce 100 per cent of printing effects with digital technology, the needs of several markets – from fashion to home textiles, swimwear to sportswear – can be met at the same time.
"At Epson, we know how crucial it is to respond quickly to a market in perpetual motion," commented Paolo Crespi, commercial director of Epson Como Printing Technologies. "Today, with the Monna Lisa ML-16000/Hy, we have reached a new milestone and completed a journey that began 20 years ago with the birth of the Monna Lisa project: the coverage of 100 per cent of printing requirements with digital technology."

He continued, "In order to facilitate the work of our customers, our primary goal is to ensure the maximum flexibility of our solutions. All the printers in the Monna Lisa series allow us to organise and combine our printing processes in the best way, quickly, and with as little waste as possible of resources. Shorter processes, fast response times to market demands, and extreme versatility have therefore always been core qualities of the Epson product range."

The 16 PrecisionCore printheads print at 1200dpi on a 180cm wide print width in eight colours on all types of fabrics.