MIMAKI ENTERS DTF MARKET
Mimaki is entering the direct to film (DTF) inkjet printer market, with the launch of the TxF150-75 at its Global Innovation Days event.
Using a heat-based transfer method, Mimaki says the printer is designed to create premium, customised merchandising, sportswear and various other promotional textile applications. This is the latest entry from Mimaki for the decorated apparel segment.

Mimaki says DTF printing provides an 'easy and affordable' process for decorating apparel, most commonly T-shirts. The design is initially printed directly onto a special transfer film, which is then sprinkled with hot-melt powder. Once heated and dried, the transfer sheet is ready to be applied to the fabric, using a heat press.

Based on Mimaki's existing 150 Series, one of its best-selling models, the new TxF150-75 is designed to respond to the market need for a reliable, stable DTF technology. Mimaki says built-in ink circulation system and degassed ink pack design prevent common DTF issues, such as poor ink ejection and white ink clogging. It says these core technologies, which also include the nozzle check unit and nozzle recovery system, all ensure that processes are carried out efficiently with minimal intervention needed.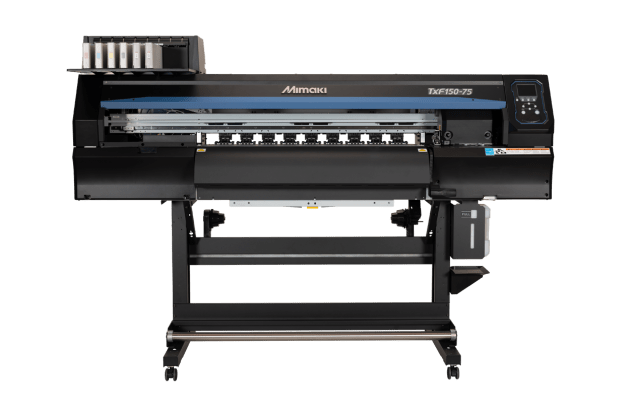 Mark Sollman, senior product manager at Mimaki Europe comments, "Apparel decoration is a hugely popular and dynamic sector, one which we are already operating in with our other textile technologies. However, we could see the impact DTF technology has had on the industry in recent years, with its significant advantages over existing technologies. Namely, DTF avoids the time-intensive process of plate creation in screen printing, and the required weeding in traditional vinyl heat transfer.
"The technology can also create vibrant designs with its full colour printing capabilities. We're excited to bring a solution to the market that is designed for those already active in the decorated apparel sector and those looking to enter it, which excels in usability, reliability and quality."
As the company's first entry into a new segment, Mimaki has created its own range of water-based pigment inks (PHT50) especially for this solution. As of March these inks are Oeko-Tex Eco Passport certified, guaranteeing safety and environmental standards are met in line with Mimaki's sustainability pledges. Mimaki says that unlike sublimation heat transfer printing, DTF is more versatile when it comes to materials, able to work with more than just polyester and TC blended (polyester blended) materials, and on light or dark coloured fabrics.

The printer also comes with Mimaki's RasterLink7 rip software, allowing users to have full oversight and the ability to streamline the process from the design to the final product.