Once upon a time, paper was paper and fabric was fabric and never the twain did meet. As digital technology advances into the textile printing market, however, the rise of direct-to-garment (DTG) solutions opened up new opportunities that commercial printers never had before – and now is a good time to jump aboard the bandwagon, as Jake Nelson discovered.
DTG (direct-to-garment) uses inkjet technology to print straight to natural and blended fibres such as cotton and polycotton. Unlike screen printing, which quickly stamps out identical copies of the same image in large volumes, DTG, like all digital printing, can print runs as low as a single garment, according to Steve Richardson, managing director of Impression Technology.
"Originally you could either screen print or sublimate, which requires polyesters for sublimation or large quantities of natural fibres for screen – you couldn't do oneoffs on natural," he says. "DTG was developed for internet sales, where people could upload designs, and you could formulate four-colour process on a single piece of cotton."
Australian-owned Impression developed direct-to-garment around 14 years ago in conjunction with an American company called Coldesi, says Richardson.
"Direct-to-garment technology is an Australian innovation that's since been taken up by companies around the world," he says. "Our brand was DTG Digital, and the name has been adopted to describe the process.
"We've had numerous models over the past decade, culminating in our newest model, the G4 series, which sees enhancements in speed and usability, as well as entirely new ink technology."
DTG lends itself to promotional work, says Richardson, with businesses that adopt it able to see big returns on investment.
"A company can take a four-dollar blank shirt and a dollar 's worth of ink, and turn that into a twenty-five to thirty-five dollar product," he says. "Because of its size it's easily sellable online and easy to freight, so companies can deliver a higher perceived value product with minimal stock on hand, plus easy logistics."
According to Ryan Warby, national business development manager for sign and display at Epson, direct-to-garment offers a new revenue stream for service providers such as cut-sheet printers and franchisees looking to offer more to their customers.
"Existing screen printers who traditionally have to rely on high volumes of the same artwork to justify the print run can now accept short-run multiple-size artworks," he says. "Additionally, small businesses looking for a good startup, where they have the artwork or brand they want to promote, and need an economical and reliable way to get into the manufacturing of the products, can find it in DTG," he adds.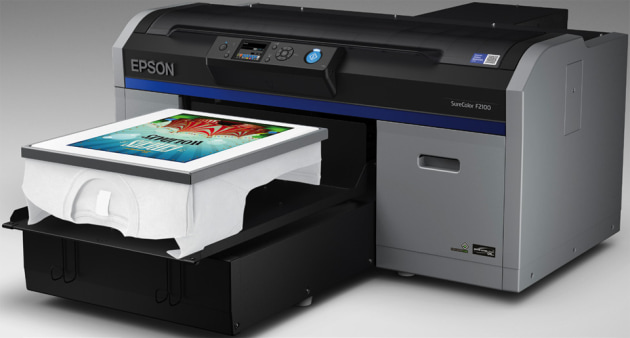 Epson has been a leader in direct to garment for many years, as visitors to Australian trade shows would testify. Its latest model is the SureColor F2160, which is an OEM product – the machine, plus its print heads and its ink, are all made by Epson; this allows for better support and a more complete warranty, says Warby.
"Some other key advantages would be its usability, its automatic print head maintenance and protections, its sensors that detect surface obstructions, its wide colour gamut thanks to the Epson inks and pigments used, and its different optional configurations for highspeed and white ink printing," he says.
Graphic arts supplier GJS sells the Epson SureColor F2160 along with its competitor, the Brother GTX. DTG sales are booming, according to Michael Davies at GJS, who highlights screen printers looking to expand as a strong customer base.
"It's a growing area, and a lot of people purchasing this equipment tend to be starting their own businesses from home. We're seeing a lot of screen printers taking on digital."
"In the past they had to turn people away with short-run jobs, but now they're investing in this technology.
Jamie Weller, regional manager at manufacturer Kornit Digital says, "DTG used to be re-engineered from photographic printers, whereas nowadays they're built as DTG from the ground up. The technology is now much more stable, and cost of investment is far more acceptable," he says.Where direct-to-garment shines is in short-run production."
According to Weller, most of the market share is – perhaps counterintuitively – at the lowest end of the scale.
"Overall the market is trending towards smaller batches. Most of today's jobs are less than five hundred items, which our Atlas HD technology fits into: it was designed to help screen printers in their digital transformation.
Increasing market
"We also see an increasing market share in the twenty to a hundred piece market, which can be addressed by our Storm HD and Avalanche HD platforms," he says.
Supplied in Australia by Kissel + Wolf, Kornit's new HD range of DTG printers can speed up production by cutting out entire steps from the process, says Weller.
"Our DTG solution reduces the steps of production from five – pretreatment, heat press, print, heat press and dry – to only two steps: printing and drying. That eliminates three steps, saving time and money, and it's why we're market leaders in DTG," he says.
As always, it's not wise to invest in new equipment without doing your research first – failure to plan is planning to fail, says Michael Davies at GJS. "A DTG printer is not a licence to print money. You need a business plan," he says. "Customers are now coming to us with business plans and knowing their target market, not just going in blind.  People are very well-educated; by the time they come to us they have done a lot of research, and now they want to see the sizes and how the platform works."
Warby recommends speaking to suppliers and channel partners who can help structure solutions that meet your business's individual requirements.
"Research the market, find where you feel you could slide your business into those segments," he says.
"Do your homework – printing and manufacturing is a process, and making sure you understand your market and have sustainable business is the best advice we can give."
Weller adds that print service providers should look into using DTG to bring more solutions to their customers.
"Existing printers need to look at diversifying their application range, and offering more to their customers. As their margins in traditional print are shrinking, there is an opportunity to tap into the digital textile printing market where margins are healthy," he says. "Today it is easy to source blank garments and then customise them locally. Offering promotional products such as t-shirts, polos, hoodies, tote bags and so on to existing customers can provide an additional revenue stream."
It's no wonder, then, that so many printers are now wearing their love for direct-to-garment on their sleeves.
New kids on the block
While companies such as Kornit, Epson, Impression Technology, and Brother are well-established in the market, other manufacturers are now taking notice of the opportunities in the sector and releasing their own DTG machines.
Though it is better known for wide-format inkjet printers, Japanese manufacturer Roland DG has expanded into direct-to-garment printing with its new VersaStudio BT-12 desktop DTG printer for cotton-based products.
The BT-12, which is set to release in April, is designed for on-demand personalisation. According to Etsuo Harada, president of the COTO business division at Roland, the company's inkjet printers are increasingly used to produce custom apparel and fabrics, so this next step is a logical one.
"In-store personalisation services for printing customer designs have grown rapidly. To meet this demand, the COTO Business Division has developed the new DTG printer," he says.
The A4-sized machine can produce a fullyfinished custom printed product in a matter of minutes, the company claims, and its 399mm x 760mm size gives it a small footprint that makes it suitable for sites such as shopping centres, kiosks, apparel stores, gift shops, and events. It can print in full colour on products made of at least 50 per cent cotton, such as T-shirts, tote bags, and interior décor.
Ricoh, too, has brought out its own range of DTG machines: the Ri3000 and Ri6000, which are more "traditional" DTG printers, and the entry-level Ri100. According to Henryk Kraszewski, senior product manager for commercial and industrial print, the all-in-one Ri100 is the smallest, safest, and cheapest DTG printer in the industry.
"It has the most appeal to those just entering the industry - even those who didn't know they could print onto garments themselves. The one device can print and cure, whereas every other DTG requires a separate heat press for the curing," he says.
"They can print on T-shirts, tea towels, pillow cases, aprons, and so on. A design or image can be produced or shared and immediately sent across and printed – there's a wi-fi setting with the ability for someone to send images from smartphones, and have them printed straight away."
According to Kraszewski, the low cost of entry and ease of use makes it ideal for print businesses looking to enter new markets with minimal; investment. The Ri100 retails for less than $8000 through dealers.
"We had a customer who purchased one, made their money back in a few weeks, and switched up to the Ri3000," he says. "It's a perfect way to test the market or offer something new to your clients where you can set it up and be operational within minutes."