Vivid invests in HP dye sub for production power
Vivid has made a million-dollar investment in the latest HP dye-sublimation printing and finishing technology, which will give it 100,000sqm a month production power, and enable next day turnaround.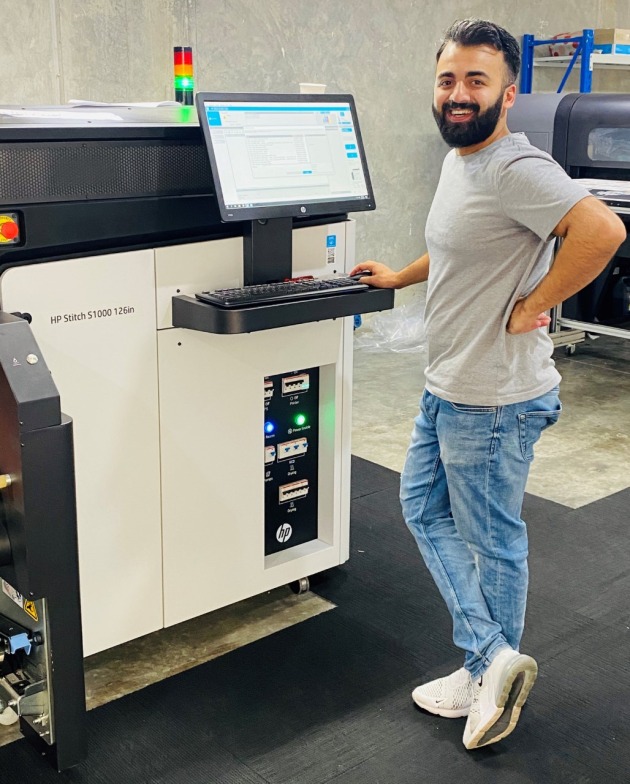 Signage and wide format printer Vivid Ads – not to be confused with Ewan Donaldson's Vivad – is the first Australian print commerce business to obtain the HP Stitch S1000, a super-wide dye-sublimation production printer, which the company says is designed to simplify operation, enable large volumes during peak times and deliver high quality at fast speeds, even when unattended.
Since installation, the HP Stitch has increased the Vivid production capacity by 400 per cent, and enabled a 24-hour turnaround time on fabric printed products. Vivid has also recently invested in the Zund G3 Cutter, and Monti Antonio heat press – further cementing its speciality in dye-sublimation printing.
"Dye-sublimation is a complicated process and over the recent years we've had a huge demand from our clients – across sectors including retail, events and exhibitions – who are looking for more reliable, and better quality direct-to-fabric printed products," says Faris Memon, sales director, Vivid.
"Our bottleneck has always been printing. We were having to refuse larger jobs because we couldn't meet the tight deadlines, but we now have the capacity to cater for high volume jobs, which will have a significant impact on our bottom line."
Jeremy Brew, HP's worldwide PrintOS and LF solutions expert, believes the Stitch S1000 was the obvious solution in helping Vivid to increase productivity and meet customer demands. He said, "Vivid's production team can now print at speeds of up to 220sqm an hour, even while unattended, with a maximum capacity of 100,000 sqm per month."
"The HP Stitch features our thermal printhead technology, a first in dye-sub printing, which helps to deliver quality with maximum uptime. This printer is largely automated, which means Vivid can spend more time helping customers to bring their display vision to life, and less time on the printing process."
Vivid caters to hundreds of trade partners, including other printers, marketing agencies and design houses across Australia. "We recently had a project for a trade partner where a customer needed 3000sqm of backlit graphics produced in a matter of days, and with the HPS1000 we were able to complete the job overnight, which exceeded our customer's expectations," says Memon.
"At Vivid, we are passionate about providing our customers with a one-stop-shop for all large format display needs – and this latest investment helps us to do just that. Everything we do at Vivid is completed in house, which gives us and our customers greater peace of mind in the current Covid-19 landscape," concluded Memon.