Broadley prints new welcome to port signage
The first thing sailors arriving in Newcastle now see is a huge new welcome sign, printed by local operator Broadley Signs, and visible from the shipping channel and from all along the foreshore.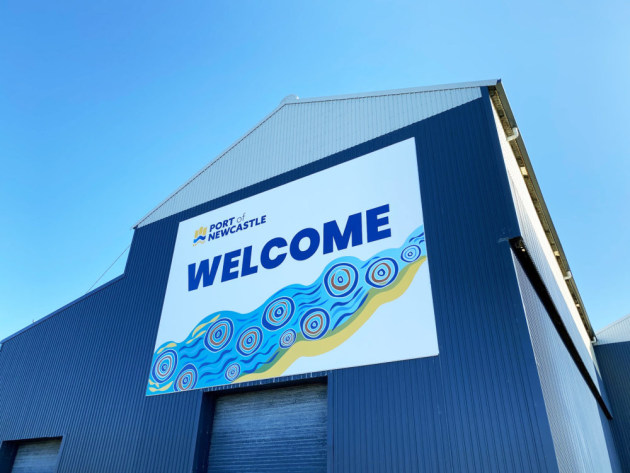 The 12.5 x 8.5 metre sign was printed in several sections on Broadley's Agfa H2500 printer, and joined together in-house by the company, which then also installed it.
Max Broadley said, "All our skins tend to be big, and this was bigger than usual, but we have the equipment, staff and expertise to handle it. It took a lot of planning, but the end result looks fantastic."
Broadley Signs is a 40-year-old business. It was started by Greg Broadley and now his sons Max and Stephen are in the business. Greg's father was a well-regarded and talented signwriter.
The sign is Newcastle's biggest and most prominent harbour-fronting billboard. Local Aboriginal artist Saretta Fielding created the artwork, which depicts the harbour and river landscapes.
The new design, which acknowledges the Awabakal and Worimi Peoples as the traditional owners of the land, was installed on the iconic blue shed at Dyke Point in Carrington to welcome seafarers as they enter the channel.
The sign can also be seen from the Newcastle Harbour foreshore, and as far away as Nobbys Lighthouse.
The Port of Newcastle sees some 400 ship movements a month and handles almost 500,000 tonnes of cargo every day of the year.