Canon launches new printer plotter series
Canon Production Printing Australia is today launching a new ColorWave and PlotWave printer and plotter series, with eight new models in total being released.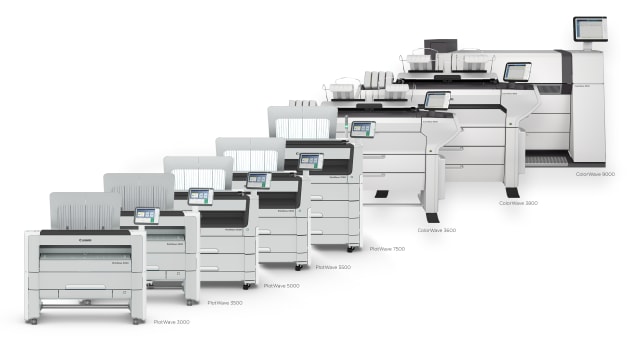 The series features new integrated printing security that Canon says offers high tech security features, such as safe submission to protect data and user credentials when sending files to the printer.
Comprising three ColorWave models (3600, 3800 and 9000) and five monochrome PlotWave models (3000, 3500, 5000, 5500 and 7500) featuring the latest security technology, Smartshield, Canon says the range provides safe storage, protecting print data from theft or accidental data leakage; authorisation to restrict access to confidential files, and hack prevention, which ensures no one from outside the organisation can access the printer's files.
Craig Nethercott, managing director, Canon Production Printing Australia, says "Whether print data is in submission, in storage, or being authorised – Smartshield ensures that it remains secure.
"From R&D departments printing confidential prototypes, to building companies being able to retain plans confidentially to ensure that the actual buildings remain secure, companies need to have confidence that their data is protected.
"This updated portfolio offers that peace of mind – meeting the highest security standards."
The series has been designed to support and encourage creativity in all organisations at every stage of the design process – from the visualisation of ideas, through the developmental process to final designs.
From corporate workspaces, to copy shops and production environments, the printers in these series are designed as sustainable, compact and ergonomic solutions to fit any environment, while also operating quietly to minimise distractions. Canon says the interface is easy to use, and can be operated by anyone, whether or not a trained operator.
Integrating optional finishing and scanning solutions, ColorWave and PlotWave printers now offer a range of fully compatible stackers and folders, any printer in the series can be configured to meet specific requirements and produce finished documents.
Also compatible with both series are scanning solutions for a large range of requirements – the Scanner Express, which can be integrated on top of the PlotWave and ColorWave printers for walk-up prints, and the Scanner Professional, a stand-alone production scanner for maximum quality and productivity that can be integrated with one or more printers.
Using ClearConnect software, the printers provide a streamlined workflow for any individual print job or complex multi-file document set. By providing active operator warnings and accurate print previews, the software also enables users to make necessary corrections before hitting print, and to submit prints with ease, from any location or device.
Designed to save time and speed up the design process, Publisher Select, part of the ClearConnect software suite, eliminates misprints and wasted materials with a "what you see is what you print" preview on your computer desktop. Improving productivity, the software offers dual printer support for a range of Canon's large format printers and has the functionality to assign specialised media templates to print jobs or individual files within a multi-file print job.
Martijn Fransen, strategy and marketing director, Technical Document Systems, Canon Production Printing, said: "With our long heritage in the large format printing market, Canon is dedicated to continuously developing innovative technology to support our customers' evolving needs, and enable them to confidently print their concepts and designs right first time at a high quality."