The world's big wide format show Fespa gave printers the opportunity to check out new markets. Print21 editor Wayne Robinson reports directly from the show. Click on the link to go straight to the story.

New Starleaton agencies to deliver end-to-end solutions
Fujifilm Acuity Ultra prints 400sqm an hour
Mutoh reorients
Ricoh brings new flatbed, r/r, DTG
Océ produces new Colorado for SAV
EFI launches new flatbed UV Pro 30F
Epson introduces bulk ink SureColor L-Series
Roland shows innovation
Mega trends converging for Kornit textile print
New flatbed from Mimaki
swissQprint launches Karibu first roll-to-roll
HP into textiles with Stitch S1000
Durst moves to P5 platform
Esko launches cutting upgrades
Massivit making big impact
Jeti Tauro centre stage for Agfa at 450sqm an hour
New Starleaton agencies to deliver end-to-end solutions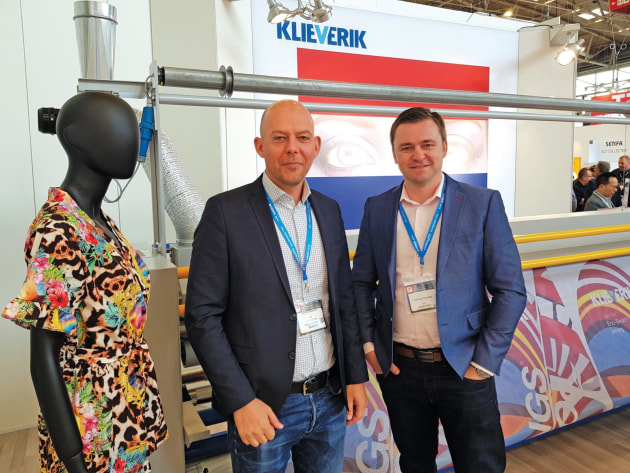 Industry supplier Starleaton is focused on bringing end-to-end solutions from Fespa for a range of applications to Australian printers.
Speaking to Print21 on the calender systems Klieverik stand, Starleaton product manager John Buitenkamp said, "End-to-end workflow solutions are key. Starleaton is able to provide complete systems with hardware, software and consumables. Automating the workflow will deliver tremendous efficiencies. Starleaton is able to supply the complete proven package, from webshop though printing and finishing."
Buitenkamp, and Cleiton Schneider, were on the Klieverik stand as it is a new agency for Starleaton, thanks to its tie-in with EFI and its textile printers including FabriVu and Reggiani, which Starleaton supplies. Buitenkamp said Klieverik products run for decades and are completely stable. He said, "Variations in temperature can have a significant impact on the ink in textile printing, impacting the colour particularly. Klieverik does not vary."
Starleaton also supplies Zund, and a G3 cutting system demonstrating cutting textile rolls up to 3.2 m wide; a Zünd D3 dual-beam cutting system and the Over Cutter Camera (OCC) were also on display.
Acuity Ultra prints 400sqm an hour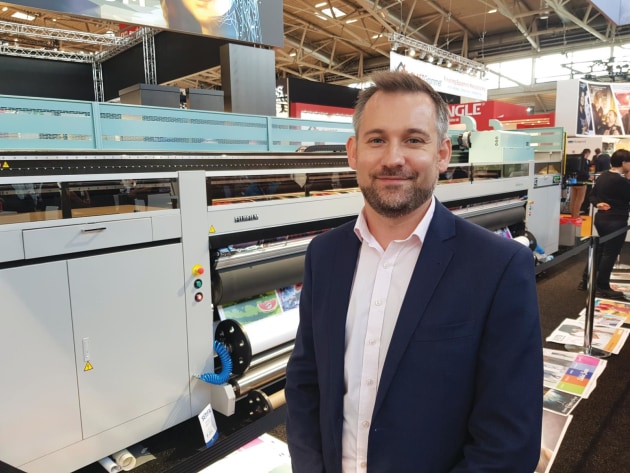 Fujifilm has blasted into the ultra high speed world with its new Acuity Ultra 5044, which is capable of producing more than 400sqm an hour of sellable billboard mode print. The new printer has dual CMYK heads and can print white. Speaking to Print21 at the show Ashley Playford, national digital manager at Fujifilm, said, "Acuity has always been known for its flexibility, and now has blistering speed added to the mix.
"The ability of the Acuity Ultra to print at top quality on a wide range of substrates makes it stand out," he said.
On the Fujifilm stand were myriad examples of what Playford was indicating, with wallpapers, acoustic wall coverings, soft signage, and the high end Duratrans type work for backlit cosmetics POS, all produced on the new Acuity Ultra.
Playford said, "The new Acuity Ultra is a volume machine, and printers with a need for serious levels of output and who want to operate in varied applications will benefit from it."
Mutoh reorients
Mutoh is offering a new resin based ink, MP31, which for a water-based ink offers long outdoor life, two phrases that ANZ GM Russell Cavenagh said "did not usually go together", but in this case do. MP31 is designed to show the characteristic of the substrate it is printed on, and will says Cavenagh "literally print on anything, which opens up new markets for users."
On the stand was the new flatbed UV PerformanceJet 2508, the name marking a departure for Mutoh from its standard ValueJet moniker. The new flatbed comes with a 2540x1250mm bed, its four heads scalable up to six with white, varnish and CMYK. It is able to print more than 50sqm an hour, text sizes as low as 5pt.
Mutoh has both direct to garment and dye sublimation systems, its ValueJet 1948WX was printing 125 sqm/ph.
Ricoh brings new flatbed, r/r, DTG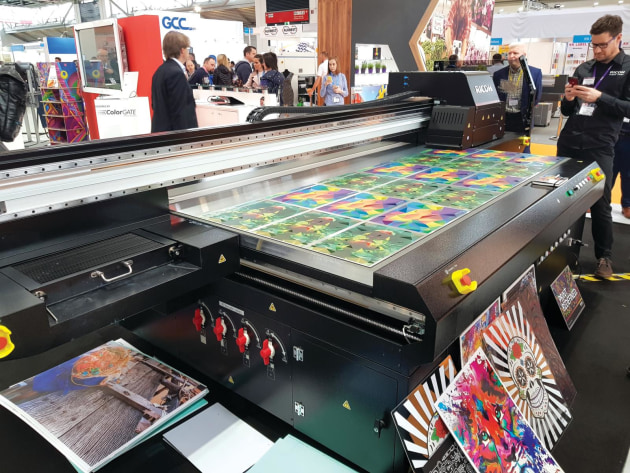 Ricoh's new Pro TF6250 UV flatbed printer is a smaller version of its first flatbed launched last year, at 2.5 x 1.3m. Graham Kennedy at Ricoh said, "It leverages our powerful print heads with drop on demand technology to deliver versatility and productivity in equal measure."
The latest addition to Ricoh's large format printing portfolio for sign and display applications is the new Pro L5100 Latex Series, which comes in two formats: CMYK x two and CMYK plus white. The three Gen 5 printheads will pump out 46sqm an hour.
The direct to garment range has been expanded with the new Ri1000, which uses a magnetic system on the platen for ultra quick loading. It comes in CMYK plus white. It is launching here later in the year.
Océ produces new Colorado for SAV
Océ has launched the Colorado 1650 roll-to-roll printer, expanding the application capabilities of its growing UVgel wide-format family.
The Océ Colorado 1650 comes with flexible ink and Océ FLXfinish, enabling a gloss and matt finish regardless of the type of media (substrate) used. It has the same productivity and image quality as the 1640, printing at 159sqm an hour
and 1800dpi.
Dale Hawkins, marketing manager at Océ ANZ said, "The new Colorado 1650 is designed for print business that are working with a lot of SAV, the flexible ink in particular supporting that media."
The 1650 is a four-colour, 1.6m-wide device which makes use of the exclusive Océ UVgel ink technology. It joins the Colorado 1640 launched two years ago, and differs from it in having a more flexible version of its UVgel ink, which the company says increases the 'stretchability' to 85 per cent compared with 15 per cent on the 1640. Océ says this opens up additional applications such as soft signage, vinyls, canvas.
The new Colorado 1650 also has a new curing system, FLXfinish LED, which enables users to automatically switch between matt and gloss finish without changing inks or substrate. Océ says this is aimed at high quality indoor and high impact indoor/outdoor applications respectively.
According to Océ the four-colour configuration of the Colorado with UVgel inks can achieve the same colour range as rival technologies that require additional inks and spot colours.
EFI launches new flatbed UV Pro 30F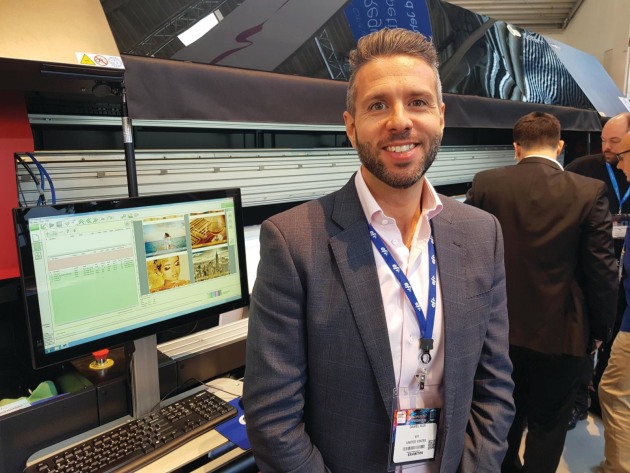 According to Daniel Aloi, senior regional sales manager, speaking at Fespa, the strength of EFI is in the scope of its solutions. "We are focused on the whole ecosystem. We are not looking to sell a box. We work right from the Web2Print digital storefront, through the MIS, printing and finishing," he said.
At the show EFI launched the Pro 30 F flatbed printer, which builds on its first flatbed, the 24F; comes with dual CMYK printheads; and can print materials up to 10cm thick. Aloi said, "We wanted to be able to print onto wood, metal, stone, and glass, to give our customers a great proposition to take to market."
EFI was also highlighting its 32r series, which will be at PrintEx in August. This can print 207sqm an hour, with its Ricoh Gen 5 printheads operating at 635dpi in seven-picolitre droplets. Its LED system is low power enabling printing onto heat sensitive substrates.
Aloi said EFI is also developing its IQ cloud based services, and its Market Direct cross media and ecommerce platform.
Epson introduces bulk ink SureColor L-Series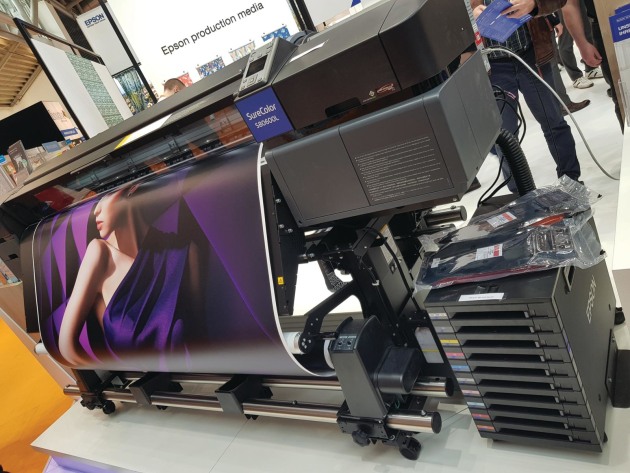 Epson launched two new SureColor S-Series signage printers, the SC-S60600L and the SC-S80600L, which come with bulk ink systems for high volume printing.
The new 64-inch SureColor printers launched at Fespa are an extension of the award-winning SureColor S Series printer range and will, says Epson, offer high productivity customers a lower total cost of ownership (TCO).
The new L Series SureColors have the bulk ink system on the floor with a pump action sending the ink to the printheads.
Richard Barrow, product manager at Epson said, "The new printers are aimed to provide print service providers who have a high throughput with less operator activity. This means a longer running period, resulting in less user intervention and reduced downtime.
"We opted for pump action as it provides consistency of ink into the printer. It is also better for the operator."
The pouches are complemented by Epson's UltraChrome GS3 eco-solvent inks which have key environmental certifications, GreenGuard Gold and AgBB.
Roland shows innovation
Shown on the Roland stand was its latest technological innovation; the TrueVIS VG2 Series, the next generation of Roland DG printer/cutters.
The VG2-640 (1625mm) and VG2-540 (1371mm) feature 40 enhancements, which the company says will set the new industry standard in wide format print.
TrueVIS VG2 includes new TR2 ink, new Orange ink for a wide colour gamut and colour matching capabilities, six-hour outgassing for high-quality same-day finishing, and an enhanced workflow powered by VersaWorks 6 rip software.
The Roland booth also featured the new VersaUV LEF2-200, which includes premium finishes such as simulated embossing, onto an array of rigid and flexible materials, up to 100 mm thick.
Roland's latest addition to the Texart dye-sublimation range, the RT-640M makes it possible to print directly onto polyester-and dye-sub paper with the same device, using the same ink and rip. It is currently being reviewed for release here.
Mega trends converging for Kornit textile print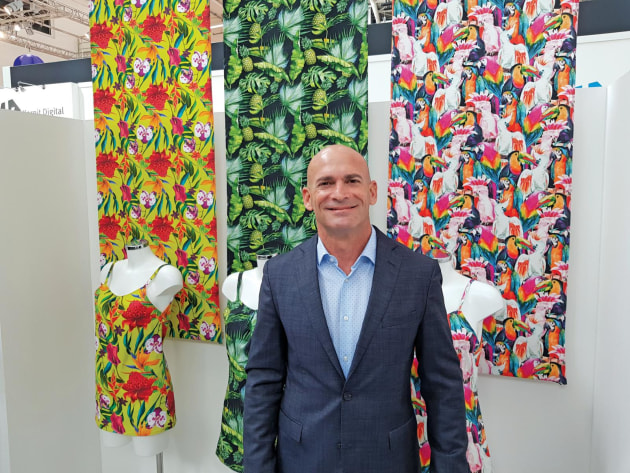 Kornit CEO Ronen Samuel says four mega trends are converging for commercial printers to exploit with the range of Kornit textile printers, three of which were on show at Fespa.
According to Samuel, personal expression, social media influencers, booming e-commerce, and sustainability mean that digital garment printing is set for surging growth over the coming years. Together with the advent of Kornit direct to garment technology, they represent a perfect storm to enable print businesses to ride these trends successfully.
"For commercial printers, direct to garment with digital printing represents a great opportunity to get away from low margin commodity print and into a sector with huge growth. And we are never going to not need clothes," he said.
On its booth were the Kornit Atlas and the Kornit Avalanche Poly Pro. The technology was complemented by a Kornit Storm HD6, a direct-to-fabric sample area featuring prints from Kornit's upcoming Presto system, and an installation of Colorgate's Textile Production Server for Kornit.
New flatbed from Mimaki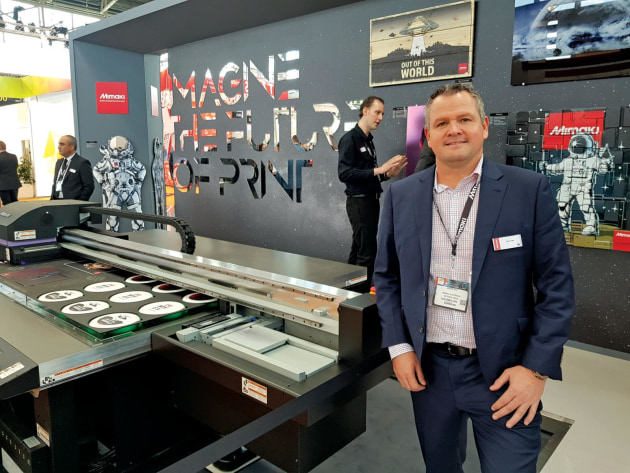 With a 280 per cent speed increase over the previous model, Mimaki's new flatbed printer launched at Fespa, the JFX-2513 EX, looks set to make an impact in the local market. The new EX version prints at the same speed with white. National sales manager Jason Hay told Print21 that it is a fifth generation LED flatbed. "Virtually all Mimaki printers are now UV LED, including the flatbeds, the rollfeds and the 3D printers. The benefits of lower power, a wide range of substrates, and vitality of the graphics are the reasons," he said.
The new flatbed EX will print at 35sqm an hour. It also has what the company says is 2.5D capability, to produce textured surfaces. It will retail for $119,995 in Australia.
Also on the Mimaki booth at Fespa was the TS55 textile printer. Hay said textiles are another fast growing area for Mimaki, with an upturn in sales of between 300 and 400 per cent in the last 12 months. The TS55 will produce 110sqm an hour and has a bulk reel capacity of 2500 linear metres.
swissQprint launches Karibu first roll-to-roll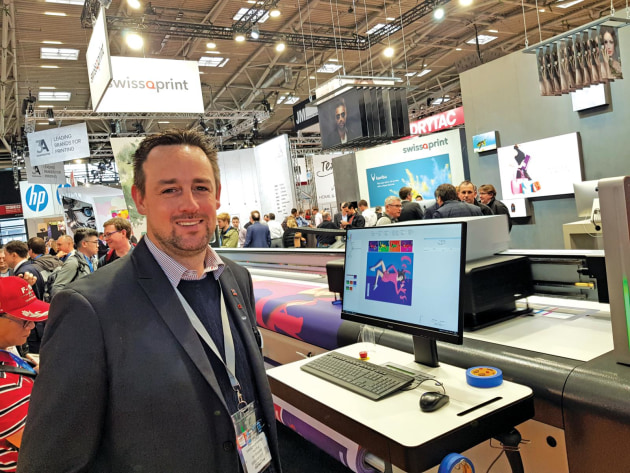 Swiss technology developer swissQprint has launched Karibu, its first roll-to-roll printer, which local supplier Phil Trumble of Pozitive says will provide flexibility and quality to print businesses.
Trumble says, "The new Karibu has some great innovation, for instance the cassette feeding system, which reduces media changeover time from 15 minutes to 3-4 minutes.
"The Karibu also has a system for printing mesh which means that there is no cleaning necessary afterwards. It has on-the-spot inspection of backlits, and dual roll printing. Some are simple features, like the light indicating progress bar, so the operator can see how the print is going from anywhere in the factory."
The company has developed an ink set specifically for the new Karibu. The cured ink has a flexibility to ensure suitablity for all media. The inks are NVC free and Greenguard certified.
Trumble said, "Karibu will be welcomed by print businesses who want quality and versatility."
HP into textiles with Stitch S1000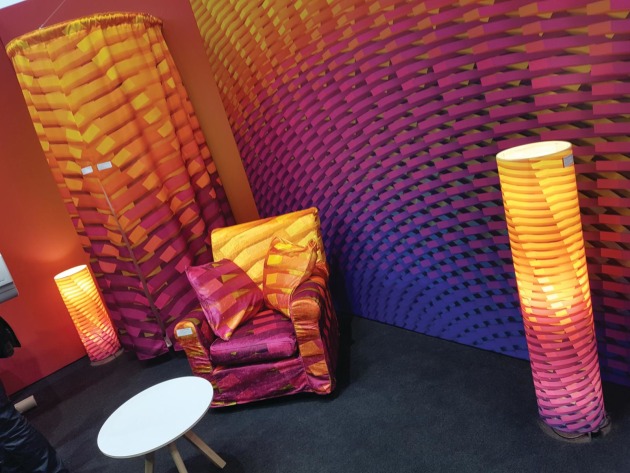 HP launched into the digital textile market at Fespa with the introduction of its HP Stitch S1000, a super wide dye sub production printer designed for high productivity and simplified operation.
The company says it is aimed at the nascent digital interior décor and soft signage markets. Both are predicted to show significant growth over the coming years.
The HP Stitch S1000 is a 3.2m dye sub printer with fully automatic maintenance for optimal image quality without user intervention, while saving time with easy media loading and unloading by a single operator.
The printer is making its worldwide debut at the HP stand. The company says the new HP Stitch portfolio, including the 1.62 m (64 inch) HP Stitch S300 and S500 printers, removes complexity from dye sub printing.
The HP Stitch S1000 offers maximum production speed up to 220sqm an hour and backlit speeds up to 130sqm an hour.
Durst moves to P5 platform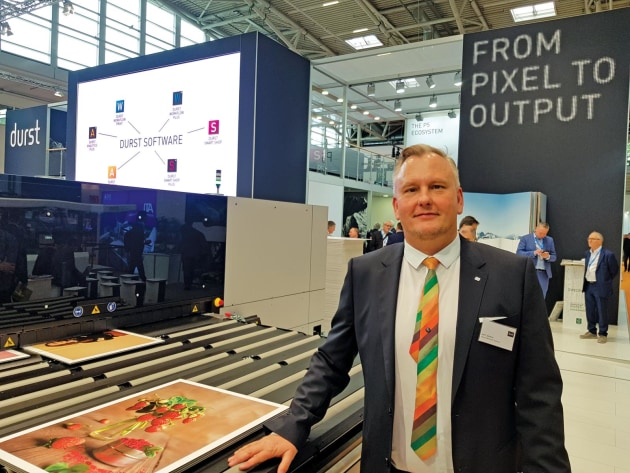 Durst launched a new print platform, the P5, which includes hardware and software, plus a white label web-to-print textile solution that print businesses can use.
The P5 includes a trio of new wide format printers: the flagship 250HS, and the hybrid 350 and 250. Also new is the Durst workflow software which includes Durst Smartshop e-commerce for B2B and B2C engagement. It includes an online editor, and is described by the company as an immersive customer experience.
Matt Ashman, national sales manager at Durst's ANZ supplier PES said, "The P5 is designed to increase speed, productivity and versatility. It is a whole new ecosystem."
The P5 series is based around a smaller ink droplet size, and comes with new LED curing for low energy costs. The flagship P5 250 HS pumps out up to 600sqm an hour at 1200dpi. The P5 210 is the entry level machine with a capability of around 120sqm an hour. The P5 350 is a 3.5m printer which is both roll to roll and flatbed.
Esko launches cutting upgrades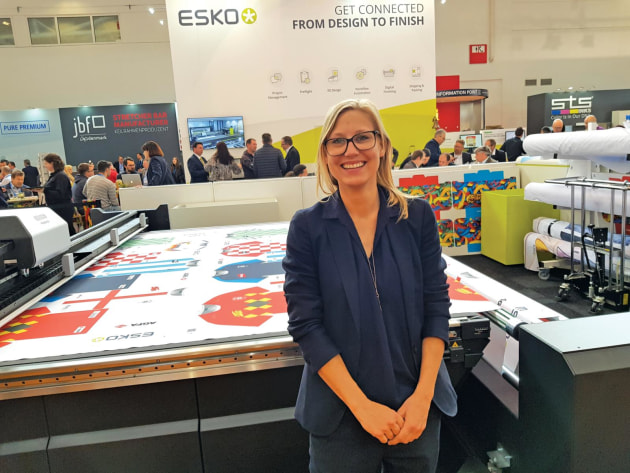 Esko is launching two new hardware solutions at Fespa: the Motorised Roll Feeder for soft signage applications, and the Kongsberg C Edge, the upgradable digital cutting table.
Esko claims the Motorised Roll Feeder is the only solution in the soft signage industry that delivers great cutting results on tensile materials from the first cut through to the end of the roll. Eliminating inaccurate cuts on soft signage jobs due to wrinkles, stretch distortion or imperfectly rewound rolls, the new Motorised Roll Feeder has an active material feed to avoid stretching, by actively feeding the material to the Kongsberg C64 digital cutting table rather than pulling it.
The new upgradable Kongsberg C Edge delivers production capability of up to 75m/min at an acceleration of 1G. The table is complemented with a range of customizable fittings, including a conveyor feed system, a new Fast Tool Adapter which Esko says is to reduce downtime and maximise performance, a heavy-duty unit for high quality corrugated crease lines, and the CorruSpeed tool, a non-oscillating device for high quality cutting even at high production speeds.
Massivit making big impact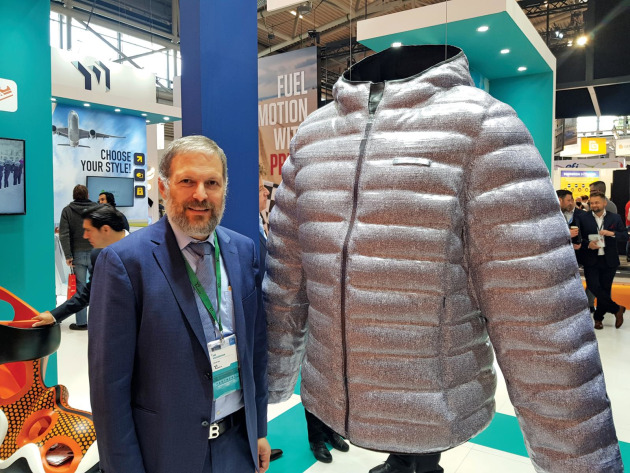 Among all the flatbed and roll to roll printing systems at Fespa are some 3D printers, but only one produces the size to make a big impact: the Israeli manufactured Massivit system.
Abe Weiszberger of Stick-on-Signs said the company was at Fespa promoting its 3D printers as a 'complement' to POS printing. He said, "We specialise in large format. The impact from Massivit is significantly more than just print."
Being launched at the show was the new 1800 Pro, which comes with a variable resolution option, while a "mega-quality" and a remote operation have also been added over the original version.
The Massivit 3D solutions are hollow, which allows them to be lit from the inside. Weiszberger said, "They are printed in UV, which means there is instant curing."
According to Weiszberger, the main application is in advertising, with the Massivit able to recreate any product in supersize for effect. The Fespa stand had shoes, jackets, watches, and ten pin bowls among its items on display.
Jeti Tauro centre stage for Agfa at 450sqm an hour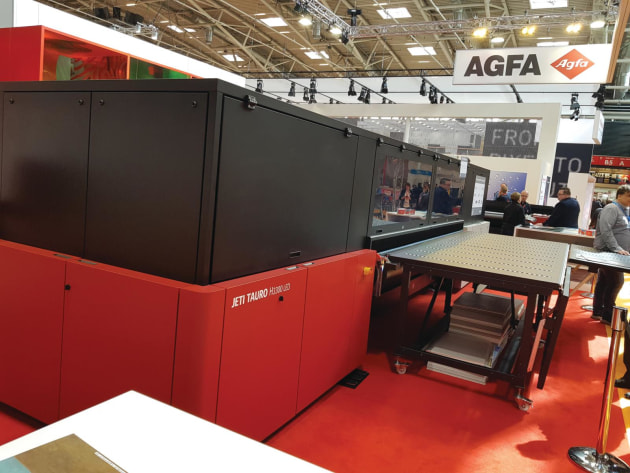 Centre stage at Agfa is the Jeti Tauro H3300 LED hybrid printer, which is running with manual input and output tables at 450sqm an hour.
The 3.3m-wide machine is available as a roll-to-roll system or with manual loading and unloading, semi-automation or
full automation.
Described by the company as a "hybrid workhorse combining award-winning vivid six-colour print quality (plus white or primer) with extreme productivity, low ink consumption and automation, it produces smooth, detailed UV-cured prints up to 3.3m wide at up to 453 sqm an hour."
The Jeti Tauro H3000 is available in three colour configurations: the six-colour (CMYK, light cyan, light magenta) Jeti Tauro H3300 LED 6C, the six-colour-plus-white Jeti Tauro H3300 LED 6C W12, and the six-colour-plus-white and primer Jeti Tauro H3300 LED 6C W8P4.
Agfa was also showing its 3.2m-wide Anapurna H3200 LED hybrid printer, a mid-range six-colour plus white hybrid LED-curing inkjet system, suited for a variety of rigid and flexible substrates up to 3.2m, for indoor and outdoor applications. Agfa also had the latest version of its Asanti workflow tool showing on the stand.