The biggest wide format expo in the world takes place next month. Print21 takes a look at reasons to make the trip to Munich, and highlights some of the new technology on show over the next pages.
Wide format print is the biggest growth area in the industry. Display printers are investing strongly, and for commercial printers it represents a relatively straightforward new revenue stream leveraging many of the skills they already have. After all they already have the file management skills, the colour management skills, and most importantly of all a ready customer base, as many of their existing customers will also be buying wide format print.
In addition to all that, the entry price to get into wide format is low, especially for printers used to investing in an offset press, but even for smaller printers and franchises the cost of a display printer is quite affordable.
There are what may seem a bewildering number of wide format print systems available; solvent, eco-solvent, pigment, dye, latex, UV. You can buy print and cut machines, or just print with separate finishing. Then there are roll fed, flatbed and hybrid systems.
The reason for the myriad solutions though is the reason to get into wide format – the applications are burgeoning, sure you can print posters, but how about floor graphics, boat wraps, packaging, home decor, soft signage for starters?
For print business owners and managers looking to add wide format to their repertoire, and for those looking to move onto the next stage Fespa in Munich represents the best opportunity to see everything the sector has to offer; technology, materials, and applications.
The show will cover the latest in digital, textile and screen printing, as well as non-printed signage. With nonprinted signage now making up the majority of outdoor media in Australia Fespa is also a great opportunity to see how you can enter that sector.
Roz Guarnori, exhibitions director at Fespa says, "We are expecting 700 exhibitors, including major industry brands, as well as many smaller exhibitors, providing visitors with a good mix of companies to engage and network with.
"Bringing together so many suppliers and innovations under one roof for speciality print is what makes Fespa the leading destination event for international print service providers (PSPs) and sign-makers."
Fespa exhibitions have witnessed significant global launches by major industry players in the past, and this year will be no different.
Guarnori says, "A number of major vendors are already signalling that Fespa will be their foremost product launch platform in 2019, so visitors should keep their eyes peeled for their preview news."
As trade shows develop they become much more than technology on booths, and Fespa is no different, with educational events, insight and expertise available. These focus on markets, applications, technology and production processes. This year for instance there will be a colour management feature, Colour L*A*B*, which will take the form of a technology showcase and supporting conference programme designed to help visitors improve colour management practices within their business.
End to end overview
Guarnori says, "Colour L*A*B* will offer visitors a structured, end-to-end overview of all the individual elements contributing to professional colour management, including monitors, measurement and calibration tools, lightboxes, hard proofing, software solutions and print output devices.
The walk-through showcase will feature representative technologies from a range of specialist suppliers, supported by explanatory graphics and a printed guide describing the processes and technologies. To show the importance of good colour management, test files will be used in live demonstrations to illustrate different printed outcomes across a range of media.
Visitors are invited to participate in free, pre-bookable, guided Colour L*A*B* tours with respected colour management consultant Paul Sherfield, who will provide detailed explanations of the processes and answer visitors' questions on how they can improve their own practices. A conference area will also offer a focused programme of free educational presentations from a range of subject matter experts.
Highlighting the possibilities of print for interior décor, Printeriors will be returning for its fourth year and will follow a similar format to Fespa last year. This year Printeriors will display, for the first time, both interior and exterior applications as the feature will be located in the atrium of Messe Munich, as well as in the external hospitality area.
The Trend Theatre will also return with seminar sessions taking place every day as well as daily panel discussions on trend-led content that explore key areas in the industry. The full conference programme will be confirmed nearer the show.
The popular World Wrap Masters will once again be hosted for the entirety of the show. The regional winners will then battle it out on the 16 and 17 May.
The competition will also be supplemented with daily interactive workshops with vehicle wrap professionals. The Fespa Print Census identified that there are six dominant trends shaping the current wide format market: textile printing, environmental considerations, customer demands, digital technology investment, an evolving product mix, and optimism in the industry.
Guarnori says, "We have used the findings from our Print Census, as well as feedback from visitors to Fespa last year, to ensure that the content and our show features reflect the needs of the speciality print industry and the state of the industry. We have also based the seminar content within the Trend Theatre on the key areas shaping the industry, as highlighted by the Fespa Print Census.
"A good example of how we have used the Census insight to inform the development of a new feature is Colour L*A*B*, as one in three respondents stated that they intend to invest in colour management technology and training within the next two years as part of a wider focus on consistency and customer satisfaction", she says.
Fespa runs May 14-17 in Munich. One stop flights are available from a number of airlines including Emirates, Qantas, Singapore and Lufthansa.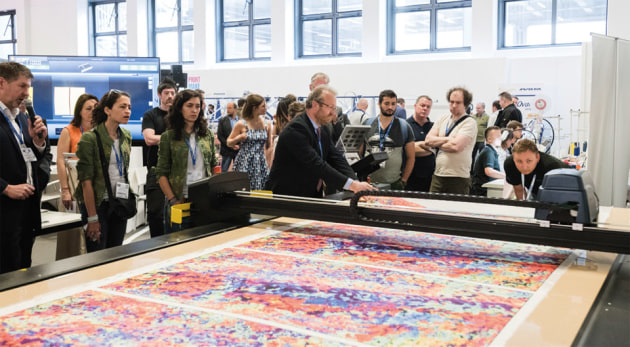 Fespa fast fashion factory to double in size
The Print Make Wear fast fashion factory feature at Fespa Global Expo 2019 in Munich will be twice the size it was last time out, reflecting the demand and opportunity for quick turnaround items that can be printed digitally.
The fast fashion factory feature was introduced at the flagship Fespa event in Berlin last year, to meet the needs of visitors interested in the opportunities in printed fashion textiles and garments.
Taking the form of a live production environment, Print Make Wear addresses every step in the garment production process. This begins with planning, design and prepress, progressing to printing, drying, cutting, sewing, welding and embellishment, and finishing with packing and retail display.
Free guided tours of the fast fashion event can be pre-booked at Fespa online.
At Fespa Global Print Expo 2019 the expanded feature will allow more space to showcase a more comprehensive range of garment printing technology solutions and consumables, as well as incorporating a staged area for presentations and debates and a catwalk for fashion shows.
The visitor experience will also be enhanced with two separate guided tours, one with a focus on direct-to-garment production and the other tailored to visitors interested in roll-to-roll production.
The technologies showcased within Print Make Wear 2019 will include direct-to garment digital and screen printing presses with both automatic and manual presses printing on water-based inks. The roll-to-roll digital technologies will include dye-sublimation as well as other textile print technologies, with the support of brands including Adobe, Adelco, EFI, HP, Mimaki, Vastex MagnaColours, Easiway and Premier Textiles.
Fespa head of events, Duncan MacOwan comments: "Year after year, independent market insights and visitor feedback reinforce the rising levels of interest in textile printing, while our own Fespa Census in 2018 indicated that sports apparel and fast fashion are two of the most dynamic growth applications in our community. Visitor response to the first Print Make Wear feature last year was positive, with more than 2,000 visitors taking part in our expert-guided tours."
He continues: "We're confident that, whatever their level of knowledge or investment in garment printing, visitors to Print Make Wear 2019 in Munich will leave with a deeper understanding of the opportunities to optimise production, improve sustainability and boost profitability."
Print Make Wear is free to attend for registered visitors to Fespa Global Print Expo 2019. The feature is part of a programme of free educational content which also includes the new Colour L*A*B* colour management showcase and conference, Printeriors, and a comprehensive schedule of live seminars in the Trend Theatre.