Solutions of grandeur: the big end of wide format
Grand format roll-to-roll printing solutions are now able to offer both quality and speed for those printers looking for high volume, reports Jake Nelson.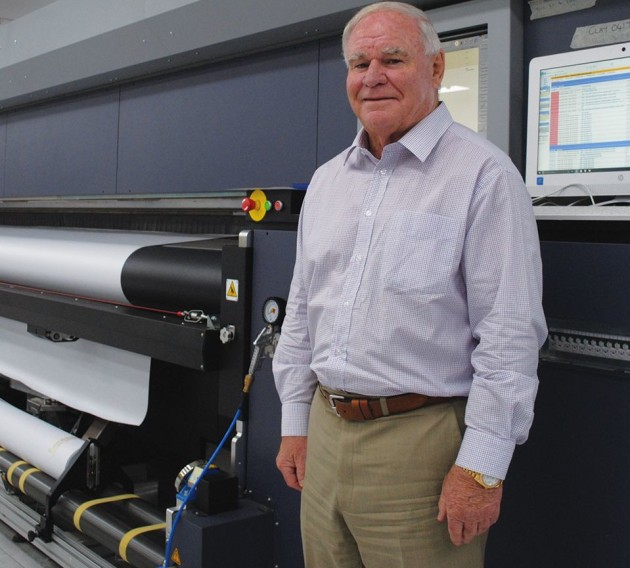 With a quarter of a century of experience in wide-format printing, it is safe to say few know more about the field than Cactus Imaging's Keith Ferrel.
The Cactus Imaging digital kit runs the gamut from small HP Latex devices all the way through to monster five-metre Durst, Fujifilm Uvistar and HP Scitex machines. Keith Ferrel, general manager, swears by these grand-format beasts for their flexibility and productivity. "One of the beautiful things about these machines is that they are versatile – for example the Durst will print self-adhesive vinyls, paper, flex vinyl, contra vision, mesh, lots of different substrates," he says.
Gone are the days when billboards and street furniture were the only applications grand-format equipment was good for; now, the versatility and quality of these machines have opened up a wealth of new opportunities. "There is construction, point of sale, transit, interior décor," says Ferrel. "Once upon a time these machines were so low resolution you would not use them for anything with close viewing, but nowadays they can print up to 1200dpi at speed, and they are only going to get better.
"There are flatbeds these days that can produce good quality at 900 square metres per hour or 1200 square metres per hour, so I do think over the next few years there will be a huge jump in quality from these grand format machines."
To Ferrel, quality is key for any printer looking to invest in a grand-format machine, and he keeps it front and centre. "Too many people sacrifice quality for speed, and we are the opposite," he says. "If you print at 500 square metres per hour but it is really only any good at 200 square metres per hour, it is a 200 square metre per hour machine.
"You also need to make sure what they state is actual fact – some manufacturers overstate the saleability of their prints at high speed. There are probably only a few machines around that actually do what they say they do," he adds.
Volume is king
To anyone interested in entering the grand-format market, Ferrel offers a word of caution: with so many big players in the space already, it is vital to know whether you will have the demand to keep up. "The major out-of-home media companies have all got in-house grand format printers: oOh! Media bought Cactus, QMS has Omnigraphics, and APN Outdoor owns GSP.
"If you intend to enter the grand format market, you have to make sure that the print volumes are there. It is a high volume, low margin industry – more of a commodity than anything – so you would want to be wary about stepping into it unless you had the volumes to print," he says.
From an equipment perspective, though, Ferrel is excited for what the future of digital grand-format printing has to offer. "Certainly over the next two to three years there will be some mind-boggling equipment from the big manufacturers as far as speed and quality are concerned," he says.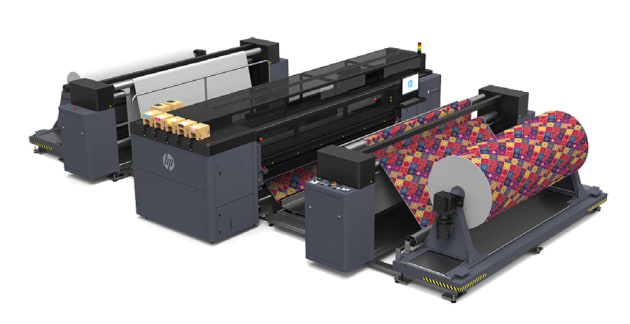 A smaller footprint from HP
Though HP has exited the five-metre roll-to-roll space, its 3.2-metre Latex machines are geared towards grand format applications from signage to floor covers, furnishings, textiles, and wall coverings.
According to Jeremy Brew, large format and industrial printing specialist at HP, the HP Latex 3800 is the company's most productive machine.
Printing at speeds of between 98 and 180 square metres per hour at a native 1200dpi, the 3800's big selling point is its capacity for rolls up to 1.2m in diameter and a tonne in weight. "Typically signage printers will only have 100 metres or so on a roll, where manufacturers will have kilometres of material on a single roll, and that's where the 3800 shines," says Brew.
In addition, as the only brand with Latex ink, HP has an offering for printers looking to reduce their ecological impact. Bew says, "As organisations are getting increasingly concerned with their environmental footprint and regulations are becoming more stringent, HP Latex presents a proposition with water-based inks, no hazardous air pollutants, and low VOCs, yet without sacrificing the light fastness and durability that outdoor printers demand."
HP has also released its R-series of hybrid Latex printers, including the R1000 and R2000 hybrids as seen at Visual Impact, which are capable of printing both in flatbed and roll-to-roll. "In that space when you talk about that versatility printers want, you can do anything from a POS display to a thermoformed acrylic panel to a car wrap, all on the one device with the same ink," says Brew.
Reducing power with EFI Vutek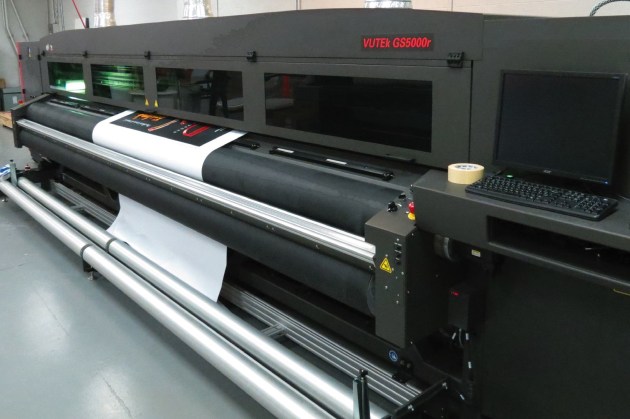 "Other machines use traditional UV mercury arc systems, which require a lot of power. EFI runs LED curing, which requires far less power and make the run costs much lower.
"The maintenance and run costs are so low you could run another machine with the difference," he says.While most grand-format machines use mercury-arc lamps for UV curing, EFI's Vutek series employs LEDs. This helps dramatically bring down the total cost of ownership, according to Ian Cleary, sales manager at distributor Starleaton.
The company says the flagship five-metre roll-to-roll EFI printer, the Vutek 5r, is among the fastest in the market, capable of print speeds up to 450 square metres per hour. "It is really an industrial press, and by far the fastest and most efficient five metre wide press out there," says Cleary.
The Vutek 5r is also capable of handling a wide variety of applications, and comes with in-line slitting and cutting, as well as multi-roll printing ability. "Across the whole fleet but particularly the 5r, the flexibility and versatility are great. You can run 5m billboard material on the 5r, but you can also run any roll application," says Cleary. "The base machine is four colour, but you can have a seven colour option, or white ink for special effects on clear or coloured material."
Andy Yarrow, Asia-Pacific director at EFI, believes the company's one-stop-shop attitude towards its products is another distinct advantage. "We have control over hardware, software, electronics and ink – it is a combination of everything. In general, when you look at what EFI does, we combine everything into one ecosystem," he says.
The seven-picolitre droplet size and 1200dpi resolution have made the 5r popular in Japan, with seven units sold in the country last year; another has recently been purchased in Korea. Both markets prize quality over other concerns in their purchases, says Yarrow. "A lot of customers are choosing the four-colour option only, because they are able to get high quality without adding light magenta, light cyan and light yellow, thanks to the small drop size and the resolution," he says.
"When you move to markets like Australia, people want both quality and throughput, and the speeds you can get from these machines are incredible", says Yarrow.
Durst running unnattended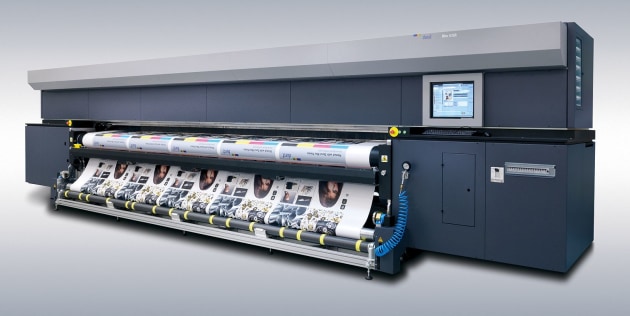 One key workhorse in leading large format printer Cactus Imaging's stable is the Durst Rho 512+, a five-metre roll-to-roll machine distributed in Australia by Photo Electronic Services (PES). "It is reliable, well-engineered, high-quality. It is right up there with the best in the world for sure," says Keith Ferrell, Cactus Imaging, one of the growing number of local Durst users.
Matt Ashman of PES highlights the reliability of the Durst. He says, "We aim at 99 per cent uptime and we guarantee our roll to roll devices can be run unattended – overnight, for example, minimising the need for operator intervention."
The Rho 512 offers a maximum speed of 400 square metres per hour at a resolution of up to 1200dpi, and is capable of printing multiple rolls at the same time. White ink adds value to the output, as well as haptic printing for applications like Braille. According to Ashman, Durst's built-to-order machines offer a distinct advantage over the competition. "We can tailor solutions for individual needs – we are happy to alter devices to fit a customer's personal needs with automation, streamlining, and workflow hardware and software.
"What Durst offers is unrivalled productivity with unrivalled production quality. We always like to think we enter into a partnership with all of our customers, and because our machines are built to order, we can tailor them to specific customers."
Fujifilm to launch new super-wide Acuity Ultra
Imaging giant Fujifilm is set to launch its latest Acuity grand-format print system - the Acuity Ultra - into Australia and New Zealand.
The company describes Acuity Ultra as 'a high quality, cost-effective, super-wide UV platform for the production of high-end interior graphics and outdoor signage'. 
Visitors to Fespa will have seen Acuity Ultra on the Fujifilm booth, with the company saying the Acuity Ultra forms a key part of Fujifilm's industrial strategy, offering increased size and quality to make the production of high-end interior graphics more profitable. Built around Fujifilm's UV cured inkjet technologies, the company says it offers almost photographic levels of quality, with tighter registration and higher production speeds, at a cost that is set to shake up the super-wide format marketplace.
Available in both 5 metre and 3.2 metre models, the Acuity Ultra is available with up to eight colour channels, using a new, highquality, low film weight Uvijet GS Fujifilm ink. Greenguard approved, Fujifilm says this ink has been especially designed to deliver the highest quality, and is fully emissioncompliant for interior graphic display work.
With a 3pl drop size ensuring what the company says is the highest possible quality, the Acuity Ultra is aimed at the high-end indoor display market, especially for luxury brands, with the quality comparable with litho and leading water-based ink systems.
Based around conventional UV technology, it also runs at much higher speeds than LED cured machines, but as the vacuum table is efficiently water-cooled, there is not an excessive build-up of heat on the print plate, meaning no shrinkage.
With a throughput of up to 236sqm per hour, the machine is capable of printing on three rolls simultaneously, as well as printing super-wide format graphics up to five metres in width. In addition, linear motors ensure smooth edge-to-edge printing with no vibrations at the end of the run.
Troy Neighbour, product marketing manager at Fujifilm Australia says, "The Fujifilm Acuity series has long been known for its quality and reliability and, by adding this super-wide model to the range, we are now also offering customers a big step-up in print quality and productivity.
"With the extra width, the option to print on three rolls simultaneously, and the ability to print at high speeds with no compromise on quality, the Acuity Ultra will appeal to larger businesses and major luxury brands."